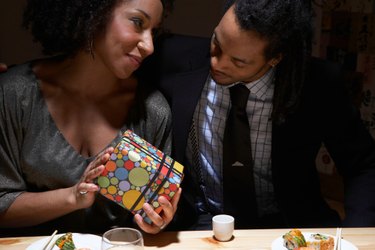 You might be wondering how to choose a present for the man in your life who is having a 50th birthday. Guys turning 50 years old are not young and they're not old. So what do you give them as a present for this special occasion marking half a century of living? While there's no one perfect gift for all 50-year-old men, you can creatively brainstorm some ideas for gifting guys approaching the big five-oh.
Step 1
Consider the psychology of guys his age. He's about to face the fact that he's now firmly in the "mature" age group. Men of this age often are facing a midlife crisis. Unless you want to make him depressed about growing older, focus on getting him a fun gift that helps him celebrate his experience in life. Give him a reason to be glad and proud he's passing the half-century mark.
Step 2
Study the 50-year-old-to-be. Covertly try to figure out what his tastes are. You probably already know if he's the kind of guy who likes tools, cars, sports or opera. If he's family and you know him well, look again -- there's a good chance he's never told you that he's always wanted a Stetson hat or something silly. A 50th birthday is the perfect occasion for getting him something he's always wanted but never been able to bring himself to get -- which emphasizes that he's still young enough to enjoy life.
Step 3
Now match the gift to his world outlook. If he's a man with a silly sense of humor, enjoys puns or likes to play practical jokes, then 50th birthday gag gifts are just the ticket. If he's a traditional, serious sort who appreciates a nice gesture or interesting gadgets, then more elegant gift suggestions include a gift basket, a nice bottle of wine, a personalized pen, an electric shaver, a book or a personal digital assistant.
Step 4
Drill the man's friends, family and co-workers. Now you know generally what he's interested in and what general type of gift to get, find out what he already has. Ask those close to the birthday boy what tools he already owns, what sports memorabilia he's accumulated, what recent books he's already read, what auto shows he's already scheduled to visit. If there's anyone you don't trust to keep a secret, vary your questions so even they don't know what you are planning to get.
Step 5
Think outside of the box. You don't have to get him a specific tool or object. Consider getting him tickets to a special event. If he does want a Stetson hat after all, consider getting him a gift certificate or gift card at a store that sells cowboy clothes -- which is better than a general gift certificate to any old store. It means he'll really get something he's been wanting but wouldn't get for himself.
Step 6
For a man turning 50 who has everything and doesn't really need fancy products, continue with your out-of-the-box brainstorming by thinking of services you might offer him. Maybe an IOU for mowing the lawn or doing some other chore he hates, dinner at his favorite restaurant or cooking him his favorite meal, complete with birthday cake. You might even arrange for him to see somebody he's been out of touch with for a while, as long as you're sure he wants to see that person. If he really does have everything, he might appreciate a donation in his name to a favorite cause, such as a humane society, environmental group or a charity such as Heifer International.
Step 7
Ask him. As a last resort in trying to surprise him for his 50th birthday, use humor to tease out what he wants. He won't know whether you're serious or not, and you may be able to surprise him yet. For example, say, "What do you want for your birthday? Since fifty years is such an important year, I want you to write down everything you've been wanting during your first fifty. Who knows -- maybe you'll get one of them for your second fifty. You can start with a villa on the Riviera . . . as long as you end with a mouse pad."