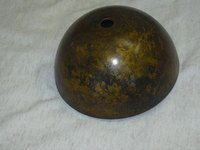 Antique Brass enables you to impart a beautiful Antique Brass finish on Steel or Iron. This process uses two different patina solutions. This process is used for Fabricator, Lighting fixtures, railings, hardware, gates, gift items, basically anywhere steel or iron need to be given a Antique Brass Look.
Things You'll Need
Surclean-400 Metal Conditioner
Antique Bronze Patina
Steel wool, brush, glass beakers
Golden Steel-5 Patina
Acrylaq-1025 Lacquer (sealer)
Cleaning:
Clean the Piece(s) with Surclean-400 Metal Conditioner (use steel wool). Then you rinse with water.
Antique Bronze:
You can dip the piece in or brush on Antique Bronze solution for 20-30 seconds. After, the piece(s)should a have a nice antique brown look, rinse with water & wipe dry.
Steel Wool:
These parts may now be steel wooled, scotch brite, buffed all over or in selected areas to expose the bare steel metal. This way a "modeled" effect is produced.Rinse with water and dry.
Golden Steel-5:
Now, your piece(s) are either dipped into Golden Steel-5 for 20 to 45 seconds or brushed. Allow the piece(s) to dry for 1 hour or a little longer if necessary. Now the parts must have acquired a yellow brass look with a brown background. If some areas look rusty, swab on with a damp cloth on the areas that look rusty to lightened the color.
Protection(Acrylaq):
Protect your piece(s) by spraying (evenly) Acrylaq-1025 Semi gloss lacquer(sealer).