A summertime berry that is akin to the apple, the blue-black to red juneberry grows throughout the U.S. and Canada in a diverse range of habitats, from hillsides to apartment complex grounds. Not a commercial berry, the juneberry must be hand-picked; your reward will be an abundance of strong flavored fruits that taste of almonds and pears. Because juneberries contain pectin, you do not need to use a pectin additive in a juneberry jam recipe.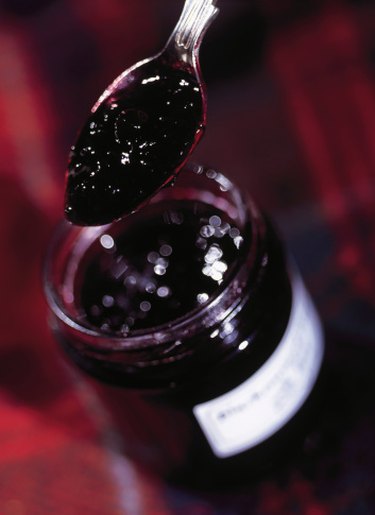 Things You'll Need
4 Cups Juneberries

3 Cups Granulated Sugar

Dutch Oven Or Other Large Pot

Potato Masher

1/4 Cup Water

Hot Sterilized Jars

Zest And Juice Of 1/2 Lemon
Step 1
Mash the juneberries in a large pot on the stove with a potato masher or other device.
Step 2
Set the heat to low to coax the juices out of the juneberries and soften them.
Step 3
Place the sugar and water into the pot and bring to a boil while stirring constantly.
Step 4
Add the lemon juice and zest and return to a boil.
Step 5
Cook for 15 minutes until thickened, stirring all the time.
Step 6
Pour into hot sterilized jars, so that there is 1/4 inch clearance on top. Clean the rims and tighten the lids. Place the jars in a boiling water bath for 10 minutes.
Tip
You may us pectin in juneberry jam, as pectin levels in juneberries vary. Use liquid fruit pectin pouches, such as two 3 oz. pouches per 6 cups of juneberries and 5 cups of sugar.
Warning
Avoid using paraffin to seal your juneberry jam, as the wax may contract from the sides of the jar and allow air and bacteria to enter.