Things You'll Need
Large men's tall tube sock

Paper

Pencil

Marker

Copier with enlarging capabilities

Scissors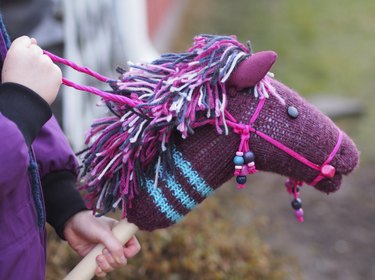 In the world of make-believe, cowgirls, cowboys, knights, princesses and more characters all need a horse to ride. You can easily make a horse at home that will keep imaginations running wild. Draft a pattern for a stick horse so that you can customize your project to make different colors and types for different needs. The patternmaking process is simple, your horse will be designed to your exact specifications and you'll be sewing in no time.
Step 1
Iron the sock so it is as flat as possible. You can also use a new sock that has never been worn and iron out any folds. Center the sock on the paper and trace around it with a pencil. Remove the sock.
Step 2
Turn the outline of the sock upside down so it looks similar to a horse. Adjust the outline of the sock. Erase the line that goes up the inside of the horse's neck and angle it out 3 inches. Redraw the line that is the horse's jaw to curve up 1/2 inch toward the nose and then gently slope toward the neck. Trace over the lines with a marker after you are satisfied with the shape of the horse's head.
Step 3
Draw a 2-inch teardrop shape on an open space of the paper. Erase the curved bottom line of teardrop and replace it with a straight line. These are the horse's ears. Trace over the pencil lines with a marker.
Step 4
Determine how large you would like the finished head to be. Hobby horse heads usually range from 12 to 16 inches from nose to mane and 15 to 20 inches tall. (The dowel used for the stick is normally around 30 inches long.) Measure the horse that you've drawn on your paper, and calculate the percentage of enlargement you will need to make the pattern the proper size. For example, if your desired stick horse is around 20 inches tall and your drawing is 10 inches tall, enlarge the drawing at 200 percent on a copier. A copy shop is a good resource for help with this task.
Step 5
Once you have prints of your enlarged pieces, cut them out to use as a pattern. Cut two pieces of fabric using each of the pattern pieces to sew together to create your horse's head. Sturdy corduroy, faux suede and tweed fabrics work well because they hold up to rigorous play and can be stuffed tightly to maintain their volume. Whimsical horses can be made from fabrics with bright patterns, sequins or glitter. Recycled sweaters can also make interesting textural horses.
Tip
Use a photo of a horse as a reference when adjusting your pattern. Trace your paper pieces onto muslin and cut out for long-lasting pattern pieces. Fold the ears in half vertically with right sides together and stitch them to either side of the head. Add a mane to the horse with pieces of yarn, ribbon or a piece of fringe. Use golden corduroy to add on a unicorn horn.
Warning
Consider gluing a ball on the lower end of the stick so small children don't poke themselves with the end of the dowel.