Things You'll Need
Broom with wooden handle

Thick sock

Stuffing

Two big buttons

Yarn

Needle

Felt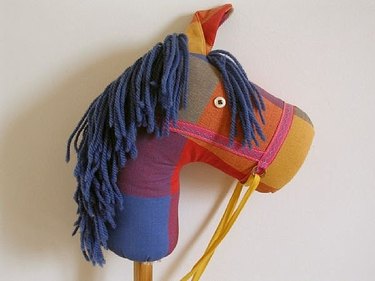 A favorite childhood toy is a horse on a stick. Children have quite the imagination and would love to have their own horse so they can ride into the sunset. It is easy to make a horse on a stick and a child can help build their own horse.
Step 1
Unscrew the broom from the handle.
Step 2
Fill the sock with stuffing. Stuff the sock as full as possible but leave the end of the sock under stuffed. This will be the horses head.
Step 3
Sew the buttons on the sock. These will be the horse's eyes. Sew the felt on for nostrils, ears and mouth.
Step 4
Use the yarn to make a mane. Sew the yarn onto the horses back and cut it to make it fringe. Add ribbons to the horse as reigns for the child to hold onto.
Step 5
Stick the wooden broom handle into the tube of the sock. Tie the sock onto the handle with yarn or rope.
Tip
Let the child decorate the horse however they want with ribbons and buttons. If the boom handle is too big for the child, cut off a few inches. To prevent splinters, paint the broom handle or wrap it in ribbon.
Warning
Make sure all buttons are sewn on securely as they pose a choking hazard if they fall off.