Things You'll Need
Multiple strings of Christmas lights (small or large bulb)

Two ladders

Helper

Light-duty staple gun (optional)

Twist ties (optional)

Weather-safe extension cord (optional)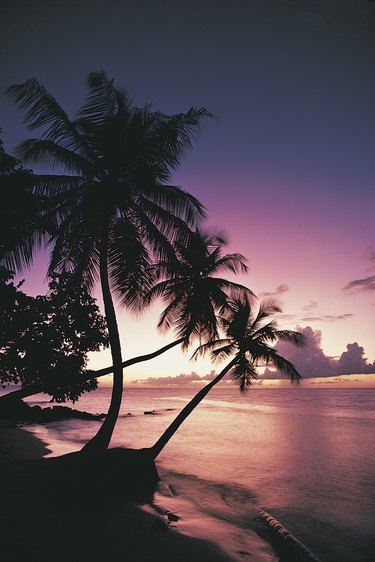 If you're in Florida or Southern California and have a palm tree in your yard, you can make the holiday period more festive by stringing lights around the tree. This also adds atmosphere for tropical-themed parties. The task requires some time and patience, but no more skill than stringing lights on a pine tree -- without the needles.
Step 1
Wind the lights around the trunk of the palm tree, with the light strands unplugged. The tighter the coil, the brighter the tree -- but you'll also need more strands. If the tree is outside, be sure to use weather-safe lights. Use brown wire if possible so the strands are not as noticeable. To get a rough estimate of the number of strings you'll need, multiple the average circumference of the tree by the vertical height to find the linear feet you'll need
Step 2
Wrap the strands very tightly to secure them to the trunk. If they are still slipping, staple the strands to the trunk -- a light-duty staple gun works well. Be sure to straddle the strand with the legs of the staple to avoid puncturing the electrical wires. Otherwise, you might create a fire hazard.
Step 3
Get a ladder for taller trees, once you have coiled the strands around the base of the trunk. You may need a friend on another ladder to help you coil the lights without falling off the ladder. Pass the strands back and forth to your helper as you coil them around the upper trunk.
Step 4
Decide if you want to light up any of the fronds once the trunk has been coiled. This is tricky business. You can run a loop of the strand down a frond and secure it with twist ties. If there are a lot of fronds, choose the ones closest to you. People on the ground will not even see the higher fronds after dark.
Step 5
Plug in your lights and check out your handiwork. If the tree is outside, be sure to use a weather-safe extension cord.
Tip
To make your decorations really pop, very the colors of the lights as you reach the top and fronds.
Warning
Never work with lights that are plugged in, especially for the stapling portion. This could result in a nasty electrical shock.
If the tree is outside, make sure everything is weather-safe. You don't want to burn down your decoration.
Don't go crazy with the staple gun. Palm trees are living plants, so you don't want to hurt the tree by putting too many holes in it.