Things You'll Need
1 large onion

4 garlic cloves

7 tbsp. olive oil

1 cup honey

1 cup soy sauce

1 lb. pork tenderloin

Aluminum foil

Shallow roasting pan

Meat thermometer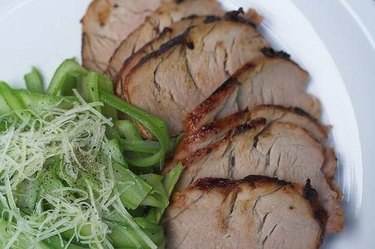 A marinade is a combination of herbs, spices and sauces used to tenderize and add extra flavor to vegetables and meats, such as pork tenderloin. Soak the pork in the marinade from 30 minutes to 12 hours or longer before cooking. Marinades can be sweet or spicy, depending on your taste. The next time you want pork tenderloin, try marinating it for a truly delicious and memorable meal, from the first bite to the last.
Step 1
Peel the onion and garlic cloves. Mince the onion and garlic, and place them together in a bowl.
Step 2
Add the olive oil, honey and soy sauce to the bowl, and stir thoroughly. Rinse the pork tenderloin in cold water, and dry it with paper towels.
Step 3
Place the tenderloin in a second bowl, and pour half the marinade over the meat. Cover the bowl with aluminum foil, and refrigerate the marinating pork overnight. Turn the pork over once or twice during the soaking to allow it to marinate completely.
Step 4
Cover the bowl of reserved marinade with aluminum foil. Refrigerate the marinade for later use.
Step 5
Preheat the oven to 400 F. Remove the marinated tenderloin from the bowl, and place it in a shallow roasting pan. Discard the used marinade, as bacteria from the raw pork could be in it.
Step 6
Pour the reserved marinade over the pork tenderloin. Insert a meat thermometer, and place the pork in the oven. Cook uncovered for 40 minutes or until the thermometer reads 160 F.
Step 7
Remove the tenderloin from the oven, and let it rest for 10 minutes to allow the juices to redistribute throughout the meat. Slice the marinated pork tenderloin as thickly or thinly as desired, and serve.