Things You'll Need
Window Cleaner

Paper Towels

Cloth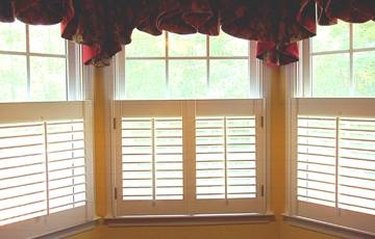 Plantation shutters add a bit of romantic elegance to any home. By adjusting the horizontal slats, you have the ability to control how much light or privacy you have in a room. Plantation shutters may be a bit pricey, but they are long lasting and will increase the value in your home. Cleaning your windows with plantation shutters installed isn't hard at all. Opening the shutters to get to the windows will depend on what type of mounting hardware is installed on the blinds.
Step 1
Open your plantation shutters. Open the latch that is located on the middle of the shutters and swing the two sides open. If your shutters are not held closed by a latch, they are hinged to slide open.
Step 2
Sweep out any dirt, bugs or other debris that might have accumulated between the shutters and the window on the window seal. Wipe off with a damp cloth and cleaner, if needed.
Step 3
Spray window cleaner on the windows and allow it to soak for a few seconds before wiping off.
Step 4
Wipe the cleaner from your windows with paper towels or a dry clean cotton cloth. Spray the window again if still dirty or streaked and wipe dry again.
Step 5
Wipe your plantation shutters with a dry cotton cloth. Close the shutters or slide back in place and latch closed.
Tip
Plantation shutters can be used with any type of window. The mounting hardware used will be the only difference.
Plantation shutters can be used on tilt out windows. Choose a mounting kit that will enable you to clean the windows as well as open the shutters.
Plantation shutters are usually guaranteed to last a lifetime.
Warning
Make sure the mounting hardware being installed on your plantation shutters is correct for the type of window you will be covering.