Things You'll Need
Net curtain panels

Rufflette Jubilee net curtain heading tape

Sticky-back (Fabric FusionTM) Velcro tape

Sewing machine

Scissors

Measuring tape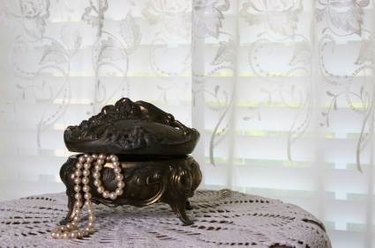 Net curtains are a type of inexpensive sheer curtain often used on doors, windows in bathrooms or in kitchens to provide some privacy while allowing light into the room. These are usually very lightweight curtains and the voile curtain is often called a net curtain. Voile is semi-transparent with a very clear surface. Net curtains can range in style from lacy to plain, from embroidered looks to crisp and modern. Most net curtains have pocket tops and are mounted using very thin curtain rods (either expandable or fixed to small brackets) or by stringing net curtain wire to release mount plastic hooks. Both of these hanging systems work with some applications but, if you are mounting in a moist area like a bathroom window, the thin metal rods will rust and the release mount hooks can fail under constant moisture. An alternative hanging system will yield easy-to-clean curtains that look good and stay in place when you need them.
Step 1
Pre-wash your curtain panels to shrink them if it does not indicate they were pre-shrunken on your curtain packaging.
Step 2
Measure your Rufflette Jubilee tape to fit. Sew your tape to your curtain panel. You can sew both top and bottom for doors where you want the panel to stay in place or just the top for some window applications.
Step 3
Pull your Rufflette Jubilee cording to the correct width for your application and tie off the cords. This forms a gather with three cords that is very attractive and easy to work with.
Step 4
Iron the soft side of your fabric Velcro tape to the curtain. The soft side of Velcro will not stick to itself in the wash.
Step 5
Apply the rough teeth side of your sticky Velcro tape to the window or door. Adjust the curtain so that the tape aligns for the best fit. The tape should be hidden behind the netting. Hang your curtains.
Tip
You can easily remove your netting with this system for washing. The Velcro glue can be removed later without damaging the window or door surface with a product like Goo Gone or adhesive remover.
Warning
Some fabrics shrink up even after washing. Most net curtains are polyester so they should stay the right size. Voiles are often natural fiber and may be more temperamental.