Things You'll Need
2 whole red snapper, 1 1/2 to 1 3/4 pounds each, scaled and gutted

Scallions

Fresh ginger root

Orange juice

Soy sauce

Chicken broth

Lime juice

Sesame oil

Vegetable oil

16-ounce package frozen snow peas

Lemon

Wild rice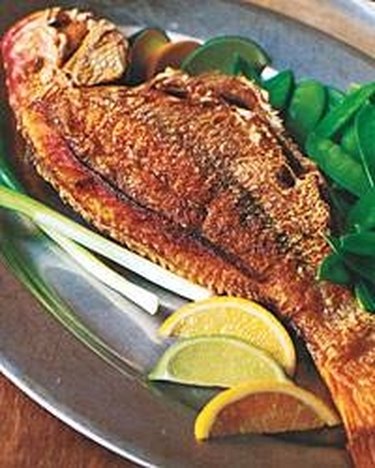 Red snapper, among the most delicious of all fish, are usually readily available either whole or filleted. The fillets are more commonly chosen and are typically broiled, baked, poached or deep-fried. However, do not overlook whole specimens, particularly if you would like to present an impressive meal for entertaining. Preparing a whole snapper is easier than you may think.
Step 1
Rinse the whole red snapper with cold running water inside and out. Pat the fillets dry inside and out with paper towels. Thinly slice 2 scallions, including the green tops. Grate 1 teaspoon fresh ginger root.
Step 2
Whisk 4 teaspoons orange juice, 2 tablespoons plus 2 teaspoons soy sauce, 6 tablespoons chicken broth, 1 teaspoon freshly grated ginger root, 2 tablespoons lime juice, 2 teaspoons sesame oil, and the sliced scallions together in a small mixing bowl. Set the sauce aside.
Step 3
Warm 3/8 inch vegetable oil over medium to medium-high heat in a very large nonstick frying pan. Carefully set each whole red snapper into the hot oil. It is fine if their tails stick out of the pan. Cook the fillets about 9 minutes without moving them until they are browned and crisp. Turn them over with a large spatula, and brown them about another 7 minutes or so, just until they are done. Drain them on paper towels.
Step 4
Prepare the frozen snow peas according the package's instructions. Avoid overcooking them, as they should be crisp when served. Drain them well in a colander. Warm a serving tray, and arrange the hot snow peas on it attractively. Warm the bowl of sauce.
Step 5
Transfer the whole red snapper to the bed of hot snow peas, and garnish with lemon wedges and whole scallions. Portion this impressive entrée by running a knife between the flesh and ribs of the fish and lifting the meat from it, with the skin left intact. Serve immediately with the warm sauce for spooning onto the snapper, steamed wild rice and a crisp acidic white wine, such as pinot or sauvignon.
Warning
Your whole red snapper will need to be properly cleaned before being cooked. When you make your purchase, have the retailer clean the fish for you. It must be gutted and scaled, and the gills and fins should be removed. Specify that the heads and tails be left on the fish.