Things You'll Need
Poster board

Pencil

Scissors

2 leather pieces, 12 inches x 12 inches

Rotary cutter

Tape

Leather punch

Permanent marker

Leather shoelaces

Self-adhesive hook and loop fastener disc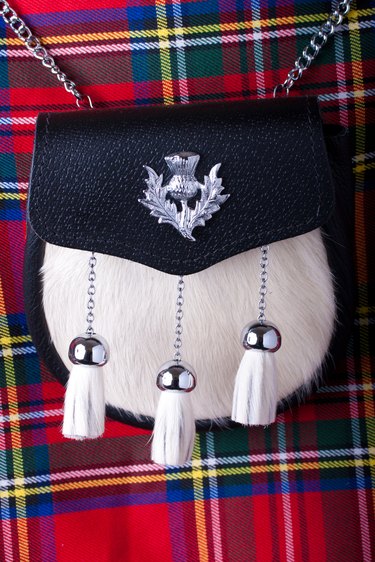 You don't have to be of Scottish heritage to wear a handmade sporran. Sporrans are useful little bags typically worn over kilts, but can be worn with other garments as well. Original sporrans contained rations or weaponry, but today they are filled with car keys and cellphones. Wear your sporran with any leather belt. This easy sporran can be made from various fabrics like leather, fabric or fur. The sporran can be completed in less than an hour and makes a great child's craft project.
Easy Modern Sporran
Step 1
Draw a sporran pattern onto a piece of poster board. It should be 10-inches long and 8-inches across. Draw the bottom so that it is shaped like a U and extends upwards 6 inches. Extend the lines another 4 inches on each side. Connect the lines across the top. This will form the sporran flap. The top should have rounded edges and a small arch in the top center.
Step 2
Cut the pattern from the poster board and trace it onto the remaining poster board. Trace the bottom section of the sporran pattern. This piece should measure 6 inches by 8 inches. This is the pattern for the front of the sporran. Cut this pattern out.
Step 3
Trace the pattern pieces onto two pieces of leather. Cut out the leather pieces with a rotary cutter.
Step 4
Fold the front sporran piece in half vertically. Tape the edges together.
Step 5
Punch holes in the front leather piece every 1/2 inch around the edges. Make sure that the holes go through both sides of the leather, and that the holes are not too close to the edge of the leather. Remove the tape and open the leather piece.
Step 6
Lay the leather on top of the back section. Align the edges. Use the permanent maker to draw the punch marks onto the back piece. Set the top piece aside.
Step 7
Punch holes into the back section of the leather.
Step 8
Cut two vertical slits in the center back piece of the sporran. The slits should be large enough so that your belt will slide through the sporran with ease.
Step 9
Lash the sporran together. Insert a leather shoelace cord through the top two side holes. Tie the leather into a knot.
Step 10
Insert the leather through the following front and back holes until you reach the final hole. Tie the leather to itself to finish it.
Step 11
Add a self-adhesive hook and loop fastener disc to the front inside flap and the center top of the front piece.
Tip
Add fur and tassels to the front of your sporran for added decoration.
Use plaid fabric instead of leather. Choose traditional Scottish colors.
Wear your sporran over a kilt, jeans or khaki pants.