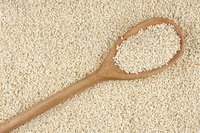 Sesame oil, also called gingelly or til oil, works both as a cooking oil and a flavoring for Chinese dishes. The type and depth of flavor of the sesame oil depend partially on whether the sesame seeds have been toasted. White seeds yield a light oil, while toasted seeds produce a darker oil with a more pronounced taste. Blended sesame seeds make tahini paste, which is widely used in Middle Eastern cooking, but you can harvest the oil to use for other dishes.
Things You'll Need
Blender
White sesame seeds
Peanut oil
Spoon
Add 1 teaspoon peanut oil for each 2 cups of white sesame seeds you put in the blender. Turn the blender on to medium and blend until smooth.
Pour the mixture into a bowl and allow it to sit for 1 hour. The sesame oil will rise to the top of the mixture.
Lay a spoon on top of the mixture so the oil flows into it. Spoon the oil out into a cup or jar.
Seal the cup or jar and store the sesame oil in the refrigerator.