Things You'll Need
8 oz. white sculpting or modeling compound

8-inch lightweight shallow bowl or plate

One 2-inch paper clip

Colored markers

Craft paints (optional)

8-inch piece of decorative cord or ribbon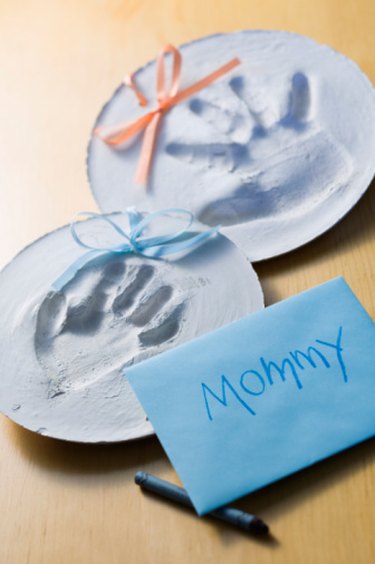 Keepsakes incorporating a child's handprint are a cheerful and personal reminder of a beloved new baby or grandchild. Handprint keepsakes include framed prints with an accompanying poem and colorful Mother's or Father's Day cards with paint handprints on the front. Plaster casts or clay plaques containing an imprint of a child's hand also make thoughtful keepsake gifts. These can be hung on the wall or displayed in a curio cabinet by a proud grandparent.
Step 1
Help the child wash and completely dry her hands.
Step 2
Knead the modeling clay until it is soft. Press it firmly into the bowl, spreading it evenly to the edges. The clay should be no more than 1/2 to 3/4 of an inch thick.
Step 3
Help the child press her flattened hand, with fingers outstretched, into the center of the clay surface. Press down firmly and evenly to make a clear, visible handprint. Remove the child's hand from the clay and help her wash and dry it. Press one end of the paper clip into the center top of the clay, parallel with the work surface, leaving 1 inch extending up from the top to use as a hanger.
Step 4
Allow the clay to air-dry according to the package instructions. Most commercially available modeling products air-dry in 24 hours or less, depending on the humidity.
Step 5
Paint the dried surface if desired, although many crafters recommend leaving the finished project a natural white color. Use a craft marker to print the child's name and the date under the handprint. You may also choose to add a personalized message for the recipient above the handprint, such as "For my Daddy" or "I love Grandma."
Step 6
Thread the ribbon through the paper clip at the top and tie the ends of the ribbon in a bow, leaving an open loop for hanging the completed project.
Warning
Do not let the child put her hands into her mouth while working with the modeling compound.