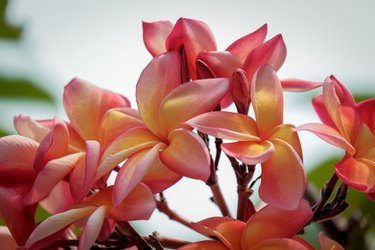 Plumeria (Plumeria spp.) is a genus that encompasses some 11 species of tropical flowering shrubs and trees. Planting plumeria outdoors in Southern California may be risky if you live in an area where winter temperatures dip into the range of 40 degrees Fahrenheit and there is a threat of frost. However, you can still enjoy plumeria's beautiful, fragrant blooms by growing them in containers and overwintering them indoors.
Characteristics of Plumeria
Also known as frangipani, plumeria flowers come in shades of white, yellow, red, orange and pink. These flowers have five petals and are extremely fragrant. They release most of their fragrance in the evening. Stem cuttings are an easy and common way to propagate plumeria. These plants are now grown in tropical places all over the world, including Hawaii, where they are used to make leis, but they are native to the Caribbean basin.
Popular species of plumeria include the West Indian jasmine (Plumeria alba), the flowers of which are white with a yellow center. Also known as the white frangipani, it is native to Puerto Rico and has a typical height between 20 and 25 feet, though it can grow as tall as 40 feet. For a red option, consider the red frangipani (Plumeria rubra), the national flower of Nicaragua. Both Plumeria alba and Plumeria rubra are deciduous, meaning they lose their leaves in the fall, but other varieties are evergreen.
Growing Plumeria in Southern California
Plumeria grows best in U.S. Department of Agriculture plant hardiness zones 8 to 10. Southern California generally falls in zones 8 to 10 with an assortment of microclimates, so the approach to growing plumeria can vary within the region. The most important factor to keep in mind is that as tropical plants, plumeria is sensitive to frost, so you should plant them in containers rather than in garden beds if frost is a concern in the area of Southern California where you live.
When choosing a location for your plumeria plant, whether it is in a garden or a container, note that these plants need full sun, which means at least six hours of direct sunlight a day, in order to perform at their best. If you are growing plumeria in an inland region of Southern California, the plants will need afternoon shade during the scorching summer months.
As a general rule, the more sunlight to which a plumeria plant is exposed, the more water it will need. It is equally important that the soil drain well, however, as overwatering can lead to fatal root rot. If you are growing plumeria in containers, a coarse, sandy potting medium, like cactus mix combined with pumice, is recommended. Plumeria also benefits from a fertilizer high in phosphorus.
If you live in a Southern California climate where it is necessary to overwinter plumeria indoors, choose a spot with temperatures between 50 and 55 degrees. Reduce watering during this time to induce and maintain dormancy. Look for insects, like scale, spider mites and mealybugs, when growing plumeria indoors. If necessary, apply insecticidal soap to keep these pests in check.