If you're looking for a meal that's easy, budget friendly, and very adaptable, chicken drumsticks are a great option to keep in mind. They're ready in exactly one hour, and will make your home smell amazing as they cook in the oven.
Baked in olive oil, garlic powder, Italian seasoning, salt, and pepper, these drumsticks are bursting with flavor. The meat is so tender it practically falls off the bone. For a well rounded meal try pairing these drumsticks with rice, potatoes, pasta, or salad. They go great with just about any side you can think of!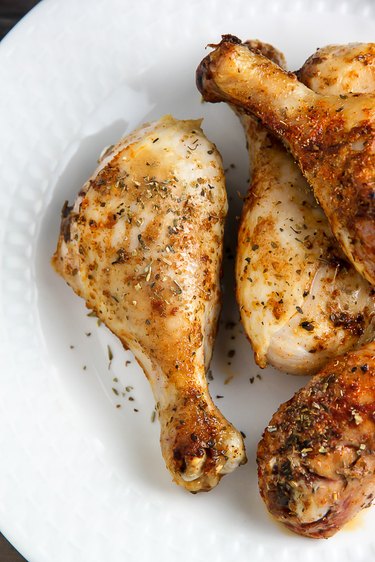 Things You'll Need
2 pounds chicken drumsticks


2 tablespoons olive oil

1/2 teaspoon salt (more to taste)


1/4 teaspoon black pepper

1 teaspoon garlic powder

1 teaspoon Italian seasoning

Step 1
Preheat oven to 375 degrees (F). Place drumsticks in a baking dish. Drizzle them with olive oil, then sprinkle them with the salt, pepper, garlic powder, and Italian seasoning.
Step 2
Bake for one hour, or until the skin is crispy and the meat is fully cooked.
Step 3