Beef tenderloin is considered by many to be the best cut of beef. The fillet, which is the roast cut from the center of the tenderloin, is the most tender of all. Always serve tenderloin with a pink center. Over-cooking a fillet of beef will result in dry, tasteless beef.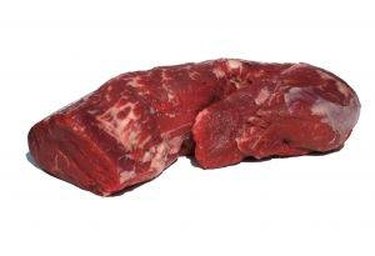 Things You'll Need
Butcher'S Twine

Heavy Bottom Skillet Or Cast Iron Skillet

1 Tbsp. Unsalted Butter

Meat Thermometer

Tongs

Salt And Pepper

1 Tbsp. Canola Oil

Oven-Safe Roasting Pan

1 (2 To 3 Lb.) Beef Fillet Roast From The Tenderloin
Step 1
Cut 4 lengths of butcher's twine about 12 inches long. Lay the twine sections about 1 inch apart horizontally in front of you on a cutting board. Lay the fillet roast lengthwise across the twine so that the thin end of the roast is nearest to you.
Step 2
Tie the roast across the middle with the center section of twine. Do not tie so tightly that you're cutting into the meat, just tie it to hold it together. Continue tying the twine until your roast is neatly tied and less floppy to handle.
Step 3
Add salt and pepper your fillet roast. Preheat your oven to 400 degrees F.
Step 4
Heat the butter and canola oil in your skillet over high heat. When the fats have melted and look like they're about to begin smoking, add your beef and let it sear on one side for about 2 minutes before turning. Turn the beef and continue searing on each side until the roast is brown all the way around.
Step 5
Transfer your fillet to a roasting pan and turn off the stove top. Add any pan juices to the roasting pan, then place it into the oven.
Step 6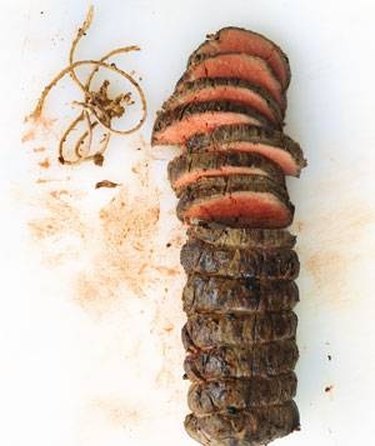 Bake your roast at 400 degrees F for about 10 minutes, then check internal temperature with the thermometer. Place the thermometer into the center of the roast and allow it to come to rest at a temperature. Remove the roast from the oven when it reaches 135 degrees F.
Step 7
Let your fillet roast sit for 10 minutes prior to carving, then slice into desired thickness and serve.
Tip
Always let beef sit for 10 minutes prior to slicing to allow the juices to redistribute.
Warning
Never overcook beef tenderloin or serve it more than medium as it becomes dry and tasteless.