Ribs are an all time favorite of summer get-togethers. The most common way to cook ribs is via the barbecue. This can be very messy when the ribs are heavily marinated, and the marinade can burn when using a honey-marmalade mixture. When marinating ribs, a person can usually get away with doing it for 2 to 3 hours, but for best results, let the ribs soak in the juices for 24 hours.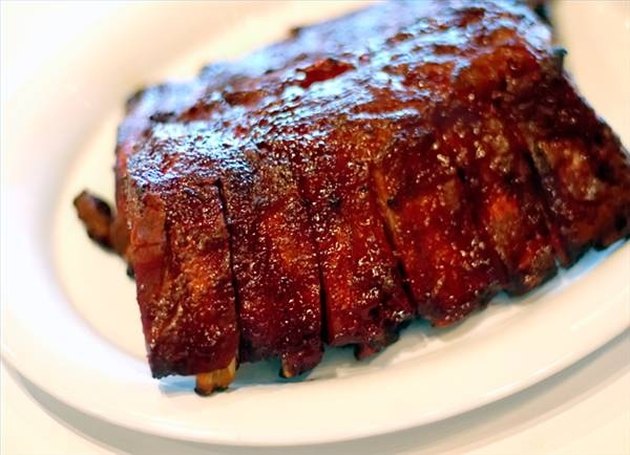 Things You'll Need
1 cup soy sauce

½ cup orange marmalade

¼ cup pineapple juice

½ cup honey

5 cloves minced garlic

1 tbsp. minced ginger

4 lbs. ribs, fat trimmed

2 large bowls

2 (1-gallon) plastic food bags

Aluminum foil

Shallow rimmed pan

Cooking rack
Step 1
Combine all ingredients, except the ribs, into a large bowl. Mix well. This is your marinade.
Step 2
Rinse the ribs and pat dry with a paper towel. Place half of the ribs in each of the 1-gallon plastic bags. Pour half of the marinade into each bag. Seal the bags. Place the bags into a large bowl to help catch any possible leakage.
Step 3
Place large bowl into the refrigerator overnight. Turn every 4 hours to let the marinade soak into the ribs evenly.
Step 4
Line the shallow pan with aluminum foil and place the rack on top of the foil.
Step 5
Preheat the convection oven to 350 degrees F.
Step 6
Remove the ribs from the refrigerator and place them in a single layer on the rack. The edges of the ribs should be pointing down. Pour the marinade out of the plastic bags into a large bowl.
Step 7
Bake the ribs for 1 hour and 15 minutes, basting them every 20 minutes.
Step 8
Remove the ribs from the convection oven, cut and serve.