If you're interested in making muffins without eggs (for whatever your reason), you're in luck because you've just stumbled upon a recipe you'll love. These home-baked treats feature the tart flavor of blueberries, the sweet flavor of banana, and the delicious crunch of a spiced streusel topping. So moist and delicious, you never would know that these muffins are missing eggs!
Things You'll Need
85 grams / 3 ounces plain flour

2 teaspoons ground cinnamon

200 grams / 7 ounces + 6 tablespoons light brown sugar

1 teaspoon sea salt

175 grams / 6.2 ounces + 6 tablespoons unsalted butter, melted

375 grams / 13.2 ounces self-raising flour

1/2 teaspoon baking soda

250 grams / 8.8 ounces Greek yogurt

2 large ripe bananas, mashed

1 tablespoon white vinegar

1 tablespoon vanilla extract

300 grams / 10.6 ounces fresh or frozen blueberries, (or other addition of choice: chopped chocolate, nuts, raspberries, strawberries, blackberries, cherries)
Step 1: Prepare the Oven and Muffin Trays
Preheat the oven to 180 Celsius / 350 Fahrenheit. Line two 12-hole muffin trays with paper liners. Set aside.
Step 2: Make the Streusel
In a small bowl, whisk with a fork to combine the plain flour, cinnamon, 6 tablespoons of the sugar and 1/2 teaspoon of the salt. Pour in 6 tablespoons of the melted butter and continue to whisk until the mixture forms a rough crumble like texture. Set aside.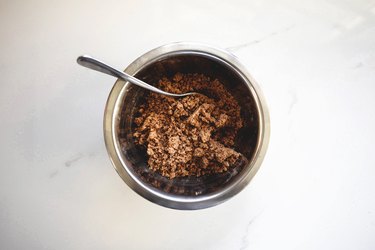 Step 3: Combine the Dry Ingredients
In a large mixing bowl, whisk together the self-rising flour, remaining sugar, baking soda and remaining salt.
Step 4: Make a Well
Make a well in the center of the dry ingredients.
Step 5: Combine the Liquid Ingredients
In a separate medium-sized mixing bowl, whisk together the melted butter, Greek yogurt, mashed bananas, vinegar and vanilla extract. Whisk until smooth and evenly combined.
Step 6: Add the Liquid Ingredients to the Dry Ingredients
Pour the liquid ingredients into the center of the dry ingredients. Use a wooden spoon to fold the ingredients into each other until they are just combined, with some banana chunks running through it.
Step 7: Add the Blueberries
Fold in the blueberries. (Or other additions of your choice.)
Step 8: Fill the Paper Liners
Divide the mixture evenly between the paper liners, filling the liners no more than two-thirds full, and then top with the streusel.
Step 9: Bake
Bake for 25 to 28 minutes, or until golden brown and a skewer inserted into the center of the cakes comes out clean. Let the muffins cool in their pans for 10 minutes before turning out onto a wire rack to let cool completely.
Step 10: Serve and Store
The muffins are best eaten warm on the day of making. They can be kept stored in an airtight container at room temperature for up to 3 days. You can also freeze the muffins for up to 1 month.