Things You'll Need
Detergent

Bucket

Cloth

Respiratory mask

Trisodium phosphate (TSP)

Finishing filler

Medium-grit sandpaper

Paper towels

Primer

Paintbrush, fine-bristled or sponge

Melamine laminate finish paint

Polyurethane (optional)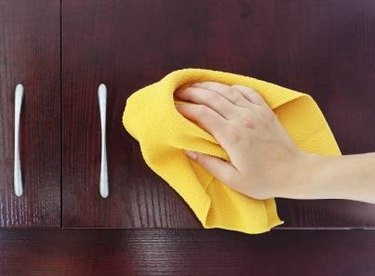 Melamine is used in a variety of home surfaces, but is more prominent in kitchen and bathroom cabinets. At first glance, a small chip or abrasion can drastically alter the look and appeal of melamine surfaces. It is possible, however, to salvage melamine cabinets, restoring their aesthetics and durability while spending a fraction of the cost to replace the doors, frames or edging.
Step 1
Remove hardware or cover it with painter's tape. Knobs, hinges and other hardware can get in the way of repair work, especially those that run along the sides of bookcases and cabinets.
Step 2
Wash your cabinets one week before doing repair work. The surface must be thoroughly dry before using repair materials. Wash with mild soap and water, and dry with paper towels. Wash again with a TSP (TriSodium Phosphate) solution that removes mold and mildew.
Step 3
Fill the chipped surface with a finishing filler appropriate for melamine. Fillers are available in custom colors, so find a color that closely matches your melamine cabinet. After it dries, smooth the chipped surface with medium-grit sandpaper. Repeat if necessary.
Step 4
Don a face mask for protection from fumes. Apply one coat of basic primer or oil-based stain-blocking primer to the affected area with a small paintbrush. Wait at least 6 hours for the primer to dry and harden. Smooth with sandpaper if necessary.
Step 5
Apply premium melamine paint laminate finish paint to the chipped areas, dabbing the paint with a fine-bristled and sponge paintbrush, blending as you go.
Step 6
Apply a polyurethane finish, preferably one created for melamine cabinets. Some finishes for melamine paint may yellow the cabinets or ruin the paint job, so read all manufacturer instructions on the melamine paint and finish.
Tip
If chips and dings are extensive, consider refinishing the entire surface.
Melamine foam cleans scratches and other minor abrasions on melamine cabinets, bookcases and other furniture for quick fixes.
Use a whitening touch-up pen for small marks and chips in white melamine surfaces.
Warning
Work in a well-ventilated area when priming and painting, especially when using oil-based primers. Keep pets and children away from project materials.