Things You'll Need
Fresh or dried herbs, such as rosemary or sage

Minced garlic

Meat thermometer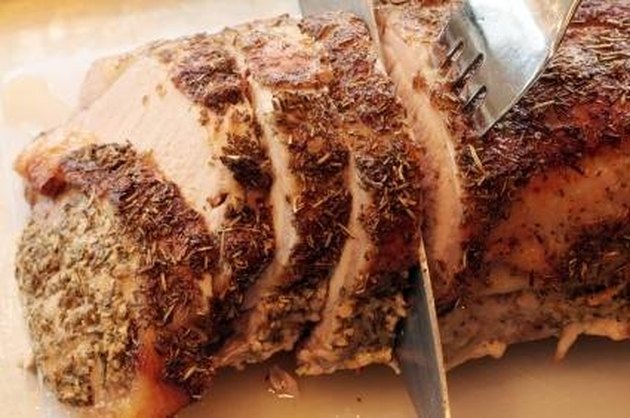 Pork roasts do great on a rotisserie. The even, dry heat keeps this cut moist while holding its shape and texture for slicing and plating. Pork really livens up with a little added effort, too. You can cut slits into the roast and insert garlic and herbs, or stuff the middle with figs and apples, without changing the basic rotisserie technique. Rotisseries make cooking large, irregular-shaped cuts of pork easy, so all you have to do is add flavor and savor.
Step 1
Take the pork out of the refrigerator about 1 hour before starting and let it sit at room temperature in a shallow dish. Pat the pork dry with paper towels.
Step 2
Combine salt, pepper, garlic and aromatic fresh or dry herbs of your choice. If using fresh herbs, remember that a little goes a long way, especially if using rosemary. Savory herbs like sage, thyme and fennel go well with pork meat. The amount of seasonings you will use will depend on the size of your roast and individual taste, but 1 cup would be a good place to start.
Step 3
Rub the pork loin with the salt and pepper, herbs and garlic. Coat the entire roast and work the seasonings well into the meat. The roast will be turning for at least 40 minutes and you don't want to see all those flavorful herbs and spices wind up at the bottom of the pan.
Step 4
Set up the grill to cook with medium-high heat and let it warm up for 15 minutes with the lid closed; 2 layers of charcoal in the tray suffices. Slide the loin onto the rotisserie rod and set it in the turning rack.
Step 5
Roast the pork for 20 minutes per pound and check the internal temperature in the center. When it reaches 135 degrees F, take it out of the rotisserie and place on a tray.
Step 6
Let it rest for 10 minutes before carving it. The meat will continue to cook while it sits, allowing it to reach a safe temperature of 140 degrees F.
Warning
Don't place more than 20 pounds of pork on the rotisserie.