Things You'll Need
Ladder (6 foot)

Pliers or Linemen (1 Pair)

Screwdrivers (Philips Head and Standard)

WD-40 (1 Can)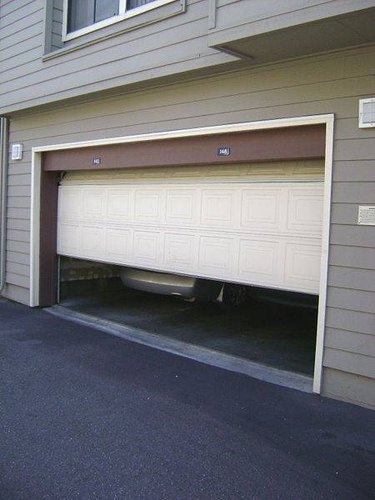 When it comes to shoring up that sagging garage door, there are no quick fixes. Getting your garage door in tight, lean condition requires a bit if elbow grease and a good set of hand tools. Most sagging garage doors are the roll-up variety, as opposed to the single-planked swing-up variety. Indeed, with a few turns of a screwdriver, you can have that door level as concrete. Just be sure the garage door is closed and you have plenty of light to work with.
Step 1
Close the garage door. Make sure you have enough light to work with.
Step 2
Using a ladder, visually inspect both of the garage door tracks. The tracks keep the garage door rollers in line and in place. Make sure the lips of the tracks are not flattened or damaged. If so, bend the track inwards, back into place, with a pair of pliers or linemen.
Step 3
Visually inspect the rollers and their brackets. The rollers are, of course, the "wheels" that allow the door to move. Make sure the brackets holding the rollers are tight. They are typically screwed into the door and will only need a Philips head or standard screwdriver to tighten. This is the most common culprit in terms of sagging garage doors.
Step 4
Visually inspect the hinges between each section of the garage door. Loose or broken hinges are the second most common sagging culprit. They too can be tightened with a screwdriver. Damaged hinges must be replaced and can be found at any reputable hardware store.
Step 5
Once all the screws have been tightened, the roller brackets tightened, and any damaged hinges replaced, lubricate the rollers and track with a healthy dose of WD-40.
Warning
Be sure the garage door is closed. Never tighten or loosen hinges when the door is open. Never attempt to tighten the torsion spring of a garage door, the coiled pressure could cause serious injury.