Things You'll Need
4-foot-long piece of 2-by-4 board

10d nails

Hammer

Putty knife

Pry bar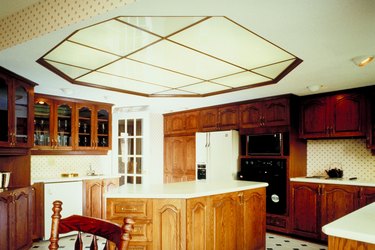 Although skylights are a unique way to let in sunlight during the day, they do receive damage from storms and falling tree limbs. before you can replace the skylight, you need to remove the existing skylight. Removing a skylight requires removing some of the roofing shingles. Most skylights secure to the opening with adhesives, however some manufactures do use brackets to secure the skylight frame. When purchasing a new skylight, don't forget to pick up a pack of shingles to replace the ones that you remove with the skylight.
Step 1
Locate the edge of the shingles surrounding the bottom of the skylight. Lift the shingles and tack a 4-foot long piece of 2-by-4 where the shingles lay on the roof with nails and a hammer. Use the board as a brace for your feet as you are working on the roof. This helps prevent you from sliding, especially on a steep roof.
Step 2
Remove all of the shingles immediately surrounding the skylight. Slip a putty knife between the shingles you are removing and the shingles they overlap to break any adhesion. Lift the roofing nails securing the shingles with the claw of a short flat pry bar.
Step 3
Locate any brackets securing the skylight to the roof. Pry the brackets away from the roof with the pry bar. Use care when prying to avoid damaging the wood roof. The skylight will raise up as you are prying the brackets. If you do not have brackets, insert the pry bar between the bottom frame of the skylight and the roof to pry the skylight up.
Step 4
Lift the skylight away from the opening in the roof. Ask a friend to assist you to take the skylight off the roof.