Things You'll Need
Air ducts, fittings and support hangars

Duct tape

Drill

Screws

Ladder

Coveralls

Thick gloves

Face mask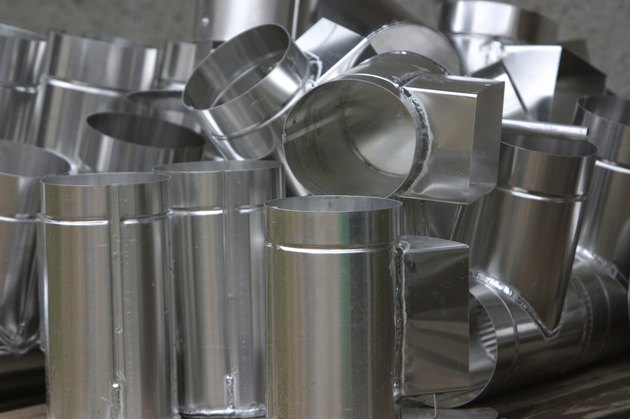 Air ducts are hollow tubes that can either be square, rectangular or round. They carry heated and/or cooled air throughout a building. Older buildings often do not have sufficient air ducts to support the productivity of newer heating and cooling systems. Installing air ducts can help reduce heating and cooling bills, make indoor environments more comfortable during hot or cold weather and eliminate the cost of having air ducts installed by a contractor. Use these steps to install air ducts.
Step 1
Draw a sketch of the air duct plan to find out how much material and how many special fittings, like elbows, that you will need for the building. When drawing the sketch, minimize air duct lengths wherever possible. This will help maximize the circulation of air in each area. Be sure to check the entire building for old air ducts that may need to be replaced.
Step 2
Determine what size air ducts you need for the building. The size will depend on the type of heating and cooling system the building has, so be sure to check the manufacturer's recommendations for each. Other factors determining air duct size include the dimensions of each room or area, the number of vents per room or area, and the distance of each from the heating and cooling system.
Step 3
Decide if you want insulated air ducts used in the building. Insulated air ducts keep the air near its original temperature as it travels farther from the heating or cooling source. Installing insulated air ducts help reduce heating and cooling bills even further.
Step 4
Air duct materials are available from a local home improvement stores and hardware stores. Be sure to getmore material than you measured for to allow for waste. A good rule of thumb is to get 10 percent more than you will need.
Step 5
Install the air ducts by sealing them together with duct tape. Wrap the tape completely around the joint for a positive seal. Hang them from the ceiling, with a drill and screws, using support hangars as necessary. Minimize the distance from the heating and/or cooling source by reducing the amount of curves and obstacles the air ducts have to go around.
Step 6
Once the air ducts are installed, check them to make sure there is minimal air leakage through each joint.
Warning
Wear protective gear when working in areas with loose insulation. Wear thick gloves when handling sheet metal air ducts, the edges are sharp.