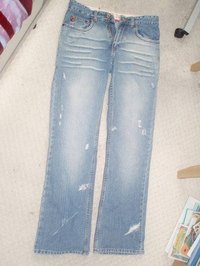 Insulating your home is one of the more economical ways of increasing your home's energy efficiency and can lower your utility bills. Using recycled clothing for insulation allows you to help the environment and keep your family free of the toxins that can be present in fiberglass insulation. In some cases, you may even qualify for a tax credit for insulating your home. Be sure to check with your tax adviser for details.
Things You'll Need
Recycled clothing insulation of sufficient R-value
Utility knife
Putty knife
Dust mask
Gloves (especially if replacing fiberglass insulation)
Safety goggles
Flashlight
To determine what the sufficient R-value is for your insulation needs, review the Department of Energy's Oak Ridge National Laboratory's Insulation Fact Sheet. The calculator within the fact sheet is based on new or existing construction, type of heating unit and your ZIP code.
Measure the space you intend to insulate. Remember to measure the space between joists. This can vary depending on the age of the house.

Purchase a little more insulation than your measurements indicate you need. Sometimes you get a tricky spot that requires wiggle room, such as around a chimney. Bonded Logic, InsulTechnologies and Green Jeans Insulation specialize in insulation made from recycled clothes. In fact, you can donate used jeans to them in some cases.

Prepare the space you intend to insulate either by removing old insulation or simply ensuring you have no problems to contend with before beginning (such as a squeaky floor board above if you are insulating a crawl space). Check manufacturer recommendations before placing new insulation over old.
Wearing safety goggles, gloves and a dust mask, start working the insulation into your intended space at the most difficult spot. For instance, in a crawl space go to the farthest point in and work your way out. This way, the hard areas are done while you are fresh. Use the putty knife to help ease it between wall, floor or ceiling joists.

Bring the utility knife along as you work your way up and down the crawl space or attic. That way you know where it is and don't have to stop and look for it if you find you need to cut the insulation to get around something.