Things You'll Need
Ham

1 can of Pepsi

Baking pan with lid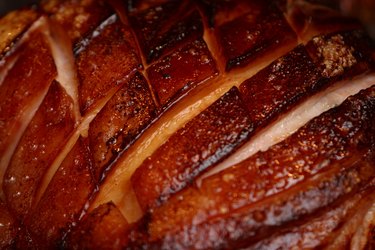 Dousing a ham in Pepsi may be one of the more unusual ways to prepare it, but the soda bath results in a great-tasting meal. Surprise your guests when you reveal the secret ingredient behind the flavor. When you use Pepsi as a sauce for ham, avoid any additional glaze, as it will make the meat too sweet. Substitute Pepsi Wild Cherry for another uncommon flavor twist.
Step 2
Select a large metal baking pan for the ham. Cleanup is easier with a metal pan than a glass one. Place the ham in the baking pan.
Step 3
Pour a can of Pepsi over the ham and put the lid on the pan. If you do not have a lid, cover the pan with aluminum foil.
Step 4
Cook the ham 15 to 20 minutes per pound, basting it with the Pepsi about every 15 minutes so all of the meat is exposed to the soda. If the liquid is cooking off before the meat is done, add water to the pan.
Warning
Check your ham with a meat thermometer to ensure proper cooking times.