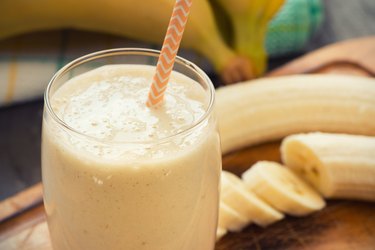 Start to Finish: 5 minutes Servings: 4 Level: Beginner
When a busy morning calls for a quick yet filling meal, a peanut butter-banana smoothie can be the perfect solution. Creamy banana blended with protein-rich peanut butter and tangy Greek yogurt can provide a delicious and nutritious start to your day.
Ingredients
1 cup Greek yogurt
½ cup low-fat milk
¼ cup cold water
2 bananas, sliced
1 ½ tablespoons wheat germ
1 tablespoon honey (or more to taste)
¼ teaspoon vanilla extract
¼ teaspoon ground nutmeg
2 ice cubes
2 tablespoons creamy natural peanut butter
Directions
Place all of the ingredients except the peanut butter into a blender in the order that they are listed.
Blend the ingredients on medium-high speed for 15 seconds. Remove the cover and scrape down the sides of the blender. Blend the ingredients for an additional 15 seconds.
Add the peanut butter and blend the mixture on medium speed for 30 seconds until all of the ingredients are incorporated and the drink is silky smooth.
Smoothie with a Twist
To create a chocolate, banana and peanut butter smoothie, inspired by Betty Crocker,replace the liquid in the recipe with ¾ cup of light chocolate flavored soy milk.
**Coconut water** can be substituted for plain water in smoothies and will provide added potassium.

**Flaxseeds** -- also known as linseeds -- are high in fiber and contain healthy omega 3 fatty acid. Add a teaspoon of ground flaxseeds to your smoothie to provide added nutrients.

For a variation on this smoothie, **try using other nut butters** such as almond or cashew. These butters pair well with the flavor of banana and will still provide healthy fats and protein.
Tips and Tricks
In an article on smoothies for "Yoga Journal," Pat Crocker, author of The Smoothies Bible suggests that to keep ingredients like nut butters from sticking to the sides of the container, add them after you blend the other ingredients.
Save time in preparing your smoothie by having sliced, frozen bananas for your smoothie on hand. Peel and slice fresh bananas. Place the pieces into a zippered freezer-safe bag in a single layer and put the bag into the freezer, lying flat. The banana slices will freeze and be ready to use when you need them. Using frozen fruit creates a frosty shake without the need to add ice.