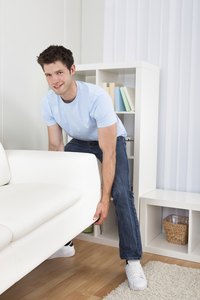 It can be tough to move a heavy piece of furniture on carpet. In most cases, you'll need to use some equipment and have at least one assistant to move the furniture safely and successfully. Plan ahead to have everything on hand when you begin the task, and proceed with patience so you don't damage the furniture or the carpet -- or the human beings.
Things You'll Need
Furniture slides
Furniture lifter (optional)
Cardboard (optional)
Plastic lids (optional)
Dolly (optional)
Furniture blankets (optional)
Purchase products to assist with the move at a home improvement center. Slides are a must, unless you intend to make them. Levers to assist in lifting a corner to put a slide in place are also available. A dolly is helpful if you are transporting a smaller piece from room to room. To make slides, cut heavy box cardboard into rectangles slightly larger than each leg of the furniture, or use a heavy plastic container lid under each leg.
Enlist the help of at least one other person, if possible.
Empty shelves and remove drawers from the piece to be moved.
Tilt the heavy piece of furniture, using a furniture lifter if necessary, to elevate one leg and tuck a slide in place beneath the leg. A helper can assist with this process. Repeat the process for each leg. Purchased slides have a smooth plastic bottom that slides easily on carpet and a foam top that shapes around the leg bottom. A homemade slide is held in place by the weight of the furniture. Either protects the carpet from snags and tears
Pull gently on the sides of a heavy piece of furniture mounted on slides and it should move smoothly across the carpet to a new location. Pulling places less strain on your back than pushing.
Leverage each corner again when you get to the new location for your furniture and remove the slides.