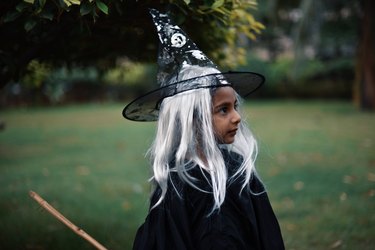 Whether you are applying temporary white hair streaks for a Bride of Frankenstein costume or coloring all of your hair white for a costume like Marie Antoinette, you can make your hair temporarily white without using permanent hair color or dye.
Things You'll Need
Baby powder or cornstarch

Fan brush makeup brush

Aloe vera gel

Hair spray
Prepare Your Locks for Temporary Hair Color
Apply a thin coat of aloe vera gel throughout your hair.
While the gel is still wet, apply baby powder or cornstarch to the fan brush. Brush the powder throughout the hair, applying more baby powder to the brush as needed. Repeat until you have covered the desired areas, giving yourself temporary white hair.
Warning
Do not inhale when applying powder or cornstarch; breathing in the powder is harmful and could cause choking.

If you have allergies to corn, avoid using cornstarch on your hair. Always check the product label for ingredients before using.

Allow the gel and powder to dry.
Apply a coat of hair spray to seal the powder. Allow the hair spray to dry.
Repeat and Finish Your Temporary Dye Job
Repeat steps 2 to 5 as many times as needed to achieve the desired temporary hair color.
Things You'll Need
Temporary white color hairspray

Paper towels (optional)

Hair clips (optional)

Hairspray
Apply a coat of temporary white color hairspray.
Tip
If you are only applying hairspray to certain pieces of hair for a streak effect, clip a paper towel to your hair to block out the parts of the hair that you do not want to add white color to.
Repeat Step 3 to apply as many coats as needed to get the desired amount of color. You may need to spray the hair several times to achieve the color you want.
Seal the hair color, applying regular hairspray on top of the color hairspray.
Things You'll Need
White sidewalk chalk

Water

Cup or bowl

Scissors

Hair dryer

Hair spray
Moisten the Sidewalk Chalk
Place chalk in a cup or bowl. Add small amounts of water to dampen the chalk until it begins to loosen and fall away.
Scrape Off the Loose Chalk With Scissors
Using scissors, scrape off the loosened chalk from the sidewalk chalk.
Using your fingers, rub the loosened chalk together until it forms a paste.
Smear the Chalk Paste on Your Hair
Apply the chalk paste to the desired areas of your hair, pinching it around the hair with your fingers. Allow to dry for at least 30 minutes.
Blow dry the chalked area of your hair on the lowest setting.
Seal the Chalk With Hair Spray
Apply a coat of hair spray to seal the chalk.
Warning
Sidewalk chalk could leave a residue on your hair when you try to wash it. If this is the case, add some baking soda to your shampoo to remove any remaining chalk.