Things You'll Need
1 x 2-inch piece of paper

Hole punch

12-inch pieces of yarn or ribbon

Pen or marker

Tissue paper, colored or white

Toilet paper roll

Tape

Christmas stickers if desired

Confetti

Small toys

Small wrapped candies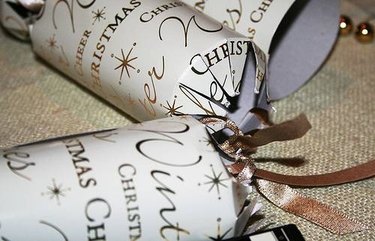 Christmas poppers, also known as Christmas crackers, originated in the United Kingdom many years ago. Today, these fun novelties still exist as a tradition in the United Kingdom and other countries as well. Create a homemade version from common household recyclables and craft supplies. Christmas poppers make an appropriate child's craft or a versatile party favor for any age. Simply alter the trinkets placed inside to the appropriate age group.
Step 1
Write a holiday greeting, joke or wish on the piece of paper. Punch a hole in one corner of the paper. Thread one piece of the yarn or ribbon through the hole and tie the ends together with a knot.
Step 2
Cut some pieces of tissue paper approximately 10 inches square. Use three or four layers of tissue paper stacked together to cover the toilet paper roll. Place the roll at one end of the layers of tissue paper squares and secure the end to the roll with tape. Wrap the tissue paper around the roll tightly and secure the other end to the roll as well.
Step 3
Gather the excess tissue paper at one end of the roll into a bunch. Secure it with a piece of the ribbon or string by tying a knot or bow around the tissue paper. Leave the remaining end open for now.
Step 4
Decorate the tissue paper wrapped around the toilet roll. Use Christmas stickers to create a design on the tissue paper. Use markers to draw holiday designs on it if desired.
Step 5
Insert the holiday greeting tied to the string from Step 1 into the roll, leaving the string hanging out of the open end of the roll. Fill the remainder of the tube with confetti, small toys and candies. Use a piece of string or ribbon and tie it around the open end of the tissue paper to seal the toilet paper roll closed.
Step 6
Hold one end of the tissue paper tied together at the end of the roll. Ask another person to hold the other end. Both people pull on the ends of the Christmas popper until the tissue paper tears and the treats and confetti fall out.