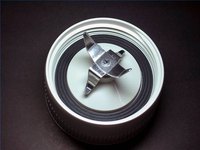 Krups is a German company that makes kitchen appliances. Although Krups is well-known for its world-class coffee machines and coffee makers, the company also makes a wide selection of food processors. There are several models of Krups food processors. They all have the ability to chop, dice, cream and mash a variety of different foods.
Things You'll Need
Shelled nuts
Cooked potatoes
Bread dough
Select which blade you would like to use on your food processor. This will depend on which food you are inserting into the processor.
Place the plastic or glass bowl and the lid on top of the food processor. Your food processor is ready to chop, dice, mash, or cream.
Place cooked potatoes in your food processor and turn the machine on to get whipped mashed potatoes in seconds.
Use a chopping blade to turn shelled nuts into a delicious ice cream topping. Continue chopping peanuts or almonds until they turn into fresh nut butter.
Remove stems from fresh basil leaves and place in the food processor. Pulse until the leaves are finely chopped and put into salads, pesto, or tomato sauce.
Clean the food processor by wiping down with a soapy rag. In most models, you can put the lid and food processor bowl in the dishwasher.