Things You'll Need
Kitchen Gourmet rice cooker

Rice

Water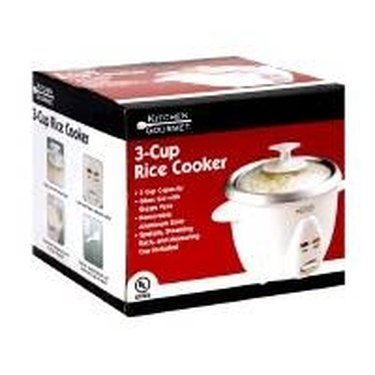 Rice, including brown rice, wild rice and sticky rice, is a staple for healthy, flavorful diet. Making rice from scratch, however, can be a time-consuming and frustrating process. Rice cookers take the hassle and guess work out of making rice. The Kitchen Gourmet rice cooker is an inexpensive necessity for anyone who loves to cook but lacks time.
Step 1
Plug in the appliance in a location that won't be affected by steam. Plug the cord into the outlet first. Then plug the other end into the rice cooker.
Step 2
Add your favorite brand of dry rice and water according to package directions. Smaller units have a 3-cup capacity, while large units can hold up to 8 cups of rice. The typical measurement is 1 cup of dry rice to 2 1/2 cups of water.
Step 3
Push the "Cook/Warm" button down to begin the cooking process. Place the lid on and allow cooker to work through its cycle. When the rice is done cooking, it will automatically adjust itself to the "Warm" setting.
Step 4
Remove the lid and fluff the rice with a fork. There will be some rice stuck to the sides and bottom. If there is a tremendous amount stuck the first time you operate the rice cooker, you will know that you did not add enough water. The next time you use the cooker, add another 1/2 cup of water.
Step 5
Unplug the unit by disconnected the plug from the cooker first. Then unplug the cord from the outlet.
Step 6
Allow the rice cooker to cool completely.
Step 7
Remove the aluminum liner and fill it with hot, soapy water. Allow liner to soak for 15 to 20 minutes. Then wash as usual. Soak the lid, as well. The starches from the rice will often coat the inside of the lid during cooking.
Tip
Some models come with a steaming tray. This allows you to steam vegetables while the rice is cooking.
Warning
The rice cooker remains in operation as long as it is plugged in.