Things You'll Need
12 to 16 small red potatoes

4 tsp. butter

1 1/2 tsp. dried parsley

1 1/2 tsp. dried chives

Fresh parsley sprigs for garnish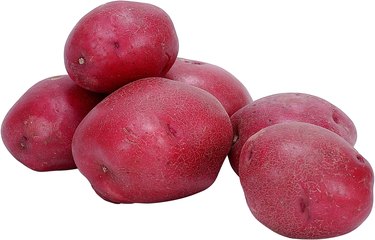 Although sweet potatoes have reputations as beta-carotene blockbusters, red-skinned potatoes also have a place in a healthy diet. Red potatoes have little saturated fat and sodium, and they're a solid source of potassium and vitamin C. In addition, boiling them results in a side dish that's perfect for almost any meal. Keep the skins on for added nutrition.
Step 1
Wash the red potatoes thoroughly. Then place them in a pot with enough water to cover the potatoes by at least 2 inches. Make sure the water isn't exactly at the top of the pot or it will boil over when the potatoes start to cook.
Step 2
Cook the red potatoes over medium high heat until they are easily pierced by a fork but still are a bit firm. Usually it will take about 20 minutes for the potatoes to cook. Make sure you don't overcook the potatoes.
Step 3
Drain the pan immediately once the potatoes are cooked, set aside and cover them to keep warm.
Step 4
Take a microwave-safe bowl and place the butter in it. Microwave on high until the butter is melted (about five to 10 seconds). Then stir in the dried parsley and the dried chives into the melted butter and pour the butter mixture over the warm potatoes. Toss to coat the potatoes.
Step 5
Move the potatoes to a serving bowl and garnish with the fresh parsley sprigs. The recipe yields four servings.
Tip
The fresh parsley is optional for garnish.
Fresh parsley and fresh chives can be used in place of dried.
For added flavor, sprinkle chopped cooked bacon on top of the warm potatoes.