Perhaps the most ubiquitous lazy girl Halloween costume, the cat, is beloved by procrastinators as an ideal last-minute option, and for good reason — it's equal parts affordable, achievable and adorable. If you're feeling feline and looking for the best way to create this go-to costume, we've got a few tricks that'll get you Halloween party-ready in no time. That is, if you have a pair of pointed ears at your disposal.
Things You'll Need
Eye shadow primer

Blending brush

White eyeliner

Shimmery neutral eye shadow (like a salmon shade)


Flat brush

Darker eye shadow (like medium brown)

Black gel eyeliner

Black eye shadow

Eyelash curler

Mascara

False lashes (optional)

Black liquid liner

Matte lip pencil (like a purple shade)

Lip gloss (like a pink shade)

Gold liquid eyeliner
You don't need face paint, just some basic makeup, to complete this cat makeup tutorial, and you can get anything you don't have on Amazon or at Sephora or your other favorite store. You likely already have some good options in your eye shadow palette. You can even go for a more glam look and embellish the look with leopard spots if you're looking to put a modern twist on the silhouette.
Tip
Before you begin, start with a primed base: Apply foundation, fill in your brows and highlight your cheekbones, the bridge of your nose and the middle of your forehead.
Apply eye shadow primer to your eyelids for a long-lasting look. Highlight the inner corners of your eyes with white liners and extend the corners of the liner down toward your nose. Blend with your fingers and a brush. Apply a shimmery neutral eye shadow (we used a salmon color) all over your lid. Apply with a flat brush for a more intense color.
Apply a darker shade of eye shadow (we used a medium brown) in the crease, from the outer corner to about halfway across your lid. Blend the edges with a clean blending brush.
Apply dark brown shadow with a small flat brush to your eye line to outline the cat eye shape to smoke out the cat eye before adding black liner.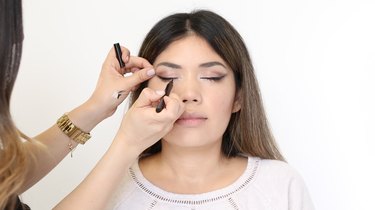 Line your upper lid, starting from the middle of the eye and creating a progressively thicker line as you work your way outward. Line the inner half of the upper lid with a fine line and connect with the rest of the line.
Apply black shadow over the liner with an eyeliner brush and smoke it up with a clean blending brush. Once you're done smoking out the cat eye, use a clean blending brush to connect the dark brown crease color with the black liner shadow at the corner of your eye. Apply the shimmery shadow to the middle of your eyelids to highlight.
3. Finish the cat eye makeup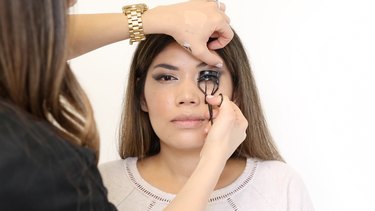 Curl lashes and apply mascara to upper lashes. Apply white liner to the inner corners of your eyes and extend the line down toward your nose and blend with a brush.
Apply false lashes, if desired. Make sure the false eyelashes are glued securely to your eyelid.
Create the Cat Nose and Lips
Use black liquid liner to color in the bottom half of your nose. Extend the liner down to your cupid's bow in the middle of your lips and create small dots on either side of the line. Extend the liner down to your cupid's bow in the middle of your lips and create small dots on either side of the line.
With the liquid liner, draw out cat whiskers. Then outline your top lip with white liner to highlight. Lightly blend with your finger.
Fill in your upper lip with a matte lip pencil. We used a purple shade then apply a lip gloss in a different shade to your bottom lip. We used a pink shade, rather than a bright red lipstick.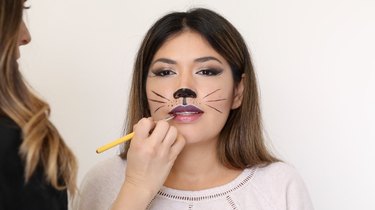 Take It Up a Notch with Leopard Spots
1. Draw the leopard spots
To create the leopard spots, take your black liquid liner and draw "C" shapes in various directions. Fill in the "C" shapes with gold liquid eyeliner.
Complete the cat Halloween costume with a pair of cat ears on a headband.