Things You'll Need
2 pounds boneless chicken thighs

Plastic wrap

Basting brush

Extra virgin olive oil, for brushing

1 teaspoon freshly chopped rosemary, thyme, oregano, cilantro or 1/2 tablespoon dried herbs

Sea salt or kosher salt, to taste

Freshly ground black pepper, to taste

Baking dish

Instant-read thermometer

Tongs

Cutting board or serving platter

Aluminum foil

Fresh lemon or lime wedge, optional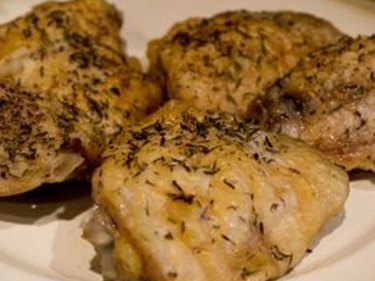 Home chefs may not be as familiar with boneless chicken thighs as they are with their more common counterpart, the boneless chicken breast. Boneless chicken thighs have a higher fat content than chicken breasts, which means they have a tendency to remain moist when they're cooked. Baking boneless chicken thighs is a fairly simple process, and because of their fat content, they're fairly forgiving if you cook them for a few minutes too long, unlike chicken breasts, which will dry out. Baked chicken thighs can be served on their own or sliced or chopped to add to salads, rice dishes and stir-fry recipes.
Step 1
Remove the chicken thighs from the refrigerator 45 to 60 minutes before you want to cook them. Wrap them with plastic wrap and allow them to rest at room temperature.
Step 2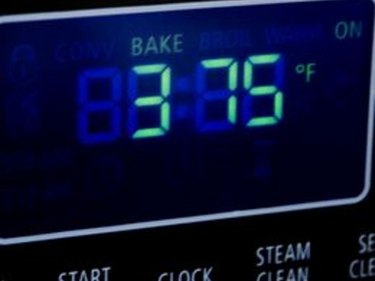 Preheat the oven to 375 degrees Fahrenheit.
Step 3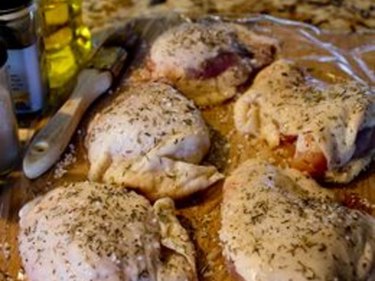 Brush the boneless chicken thighs lightly all over with extra virgin olive oil. Season the chicken thighs on both sides with the herbs if you are using them and sea salt or kosher salt and freshly ground black pepper to taste.
Step 4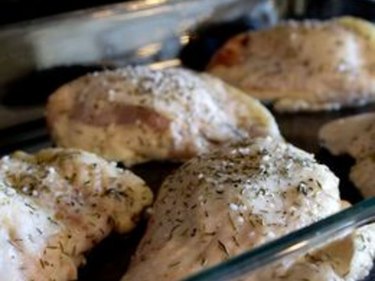 Place the boneless chicken thighs in a baking dish, leaving a small space between each. Avoid overcrowding the baking dish, which could result in the chicken cooking unevenly.
Step 5
Cook the boneless chicken thighs on the center rack in the oven for 30 minutes without opening the oven door.
Step 6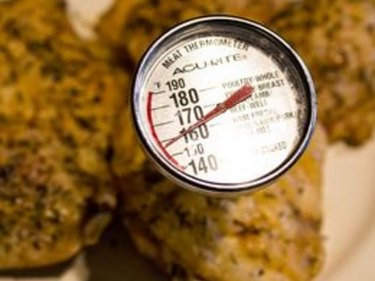 Check the internal temperature of the boneless chicken thighs by inserting an instant-read thermometer about halfway through the chicken thighs. When the chicken is finished cooking, the thermometer should read 165 degrees Fahrenheit.
Step 7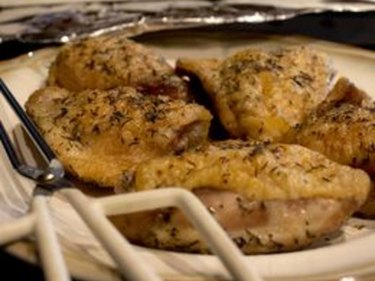 Take the chicken thighs out of the baking dish with a pair of tongs and place them on a cutting board or serving platter. Cover the serving platter with aluminum foil; allow the chicken thighs to rest for five to seven minutes so the juices can redistribute throughout the meat, making it more tender and moist.
Tip
If you're on a low-sodium diet, squeeze a fresh lemon or lime wedge over the chicken thighs right after you take them out of the oven or immediately before serving them instead of using the salt for flavor.