Things You'll Need
Metal tape measure

Pencil

Drill

Curtain rod hardware

Step stool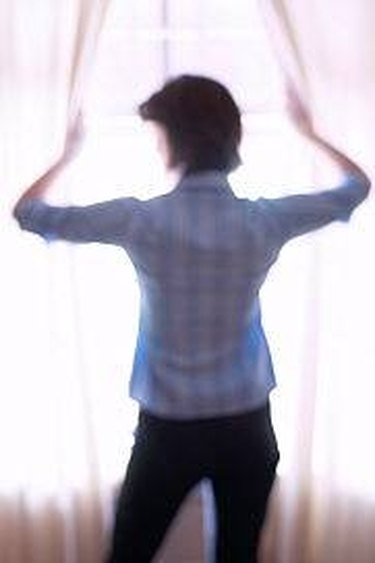 Waterfall valances enhance any decor. They are soft and light, usually with a fringe attached to the valance. Waterfall valances have three or more flowing drapes to create elegance for any window dressing. The valances layer over curtain or drapery panels. Waterfall valances and curtains are not difficult to hang with the right curtain rods and a few easy steps.
Step 1
Purchase curtain rods. There are two ways to purchase rods for a layered effect. You can buy two individual rods, one for the curtain panels and one for the valance. Or, you can purchase double curtain rods designed for layering. If you purchase the rods separately, look for an outside rod, which has brackets to hang two rods or a set of brackets you can adjust. The inside rods for the curtain panels need to have a depth or clearance of 2 to 3 inches. The valance rod needs to have a depth or clearance of at least 6 inches.
Step 2
Measure for the bracket locations. If you are using double curtain rods, you should locate the brackets 2 inches beyond the window trim and 4 inches above the window. Using a pencil, mark the areas where the screws will go. Drill the marked areas just enough for the screw to set into the hole. If you are using separate rods, measure for the inside rod first and mount that rod first.
Step 3
Install the double curtain rods or inside rod. Using a step stool or ladder, place the brackets aligned with the pencil holes and drill the screws into the holes. Put the curtain panels on the rod and set into the inside clips or on the inside bracket.
Step 4
Measure for the valance rod. If the valance rod is a separate rod, you will need to place the brackets approximately two inches beyond the inside rods. Mark the area with a pencil, drill a starting hole, and then align the bracket with the holes. Drill the screws into the wall.
Step 5
Hang the waterfall valance. If you are using the double curtain rod, hang the valance on the outside rod and using the step stool or ladder, click the rod into the outside attachment. If you are using a separate valance rod, hang the valance on the rod and set the rod or pole into the outside brackets.
Tip
Double curtain rods are easier and less expensive than purchasing separate rods.
Warning
When using a stepladder, make sure someone holds the ladder for you to prevent falls.