Things You'll Need
Red knit cap

Pins

Tape measure

Pencil

Paper

Sewing machine

Red thread

Tray

Skein of red yarn

Masking tape

Scissors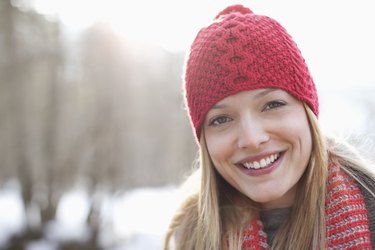 No Raggedy Ann costume would be complete without her iconic red hair. The rag doll with yarn hair has played a part in the childhood of many children since author Johnny Gruelle's daughter, Marcella, rescued the doll from an attic, and the story sprang into existence. Make a custom Raggedy Ann doll wig to bring a vibrant touch of life and authenticity to your costume.
Step 1
Place the knit cap either on your own head or on the head of the person will wear the costume. Fold up the edges of the hat so it is not covering the forehead or the ears. Pin the folds. Measure from the middle of the front edge of the cap on the forehead to the middle of the back edge of the cap on the base of the skull. Write down this number.
Step 2
Stitch the cap with a straight stitch around the fold so it won't unfold. Set it aside.
Step 3
Place the tray on its side on a hard surface so that the flat side of the tray is facing you. Tape the end of the skein of yarn to the front of the tray. Start to wrap the yarn around the tray lengthwise. Wrap the entire skein of yarn around the tray.
Step 4
Lay the tray down flat. Slide your hand under the yarn and peel the tape from the yarn and the tray. Dispose of the tape. Slide the yarn off the tray, keeping it as neat as possible.
Step 5
Cut the looped ends of yarn so that straight pieces of yarn of equal length remain. Set the yarn aside.
Step 6
Measure a piece of tape the length of your measurement from Step 1 and place it sticky-side up on a table. Center the pieces of yarn on the tape.
Step 7
Pin the tape, yarn-side down, to the middle of the cap like a mohawk hairstyle. Stitch down the middle of the tape using a straight stitch.
Step 8
Peel the tape gently from the yarn. Comb the yarn pieces out with your fingers.
Step 9
Place the cap with the yarn attached on the head of the costume wearer. Cut the hair to shoulder length or separate into two sections, and braid it according to your preference.
Tip
Stretch the cap on your knee to make it easier to pin the tape.
This technique would also work to create princess and fairy tale wigs.