Things You'll Need
Photograph

Cardboard

Hot glue sticks

Glue gun

White glue

Pencil

Scissors

Ribbon

Acrylic paint (optional)

Clear acrylic spray (optional)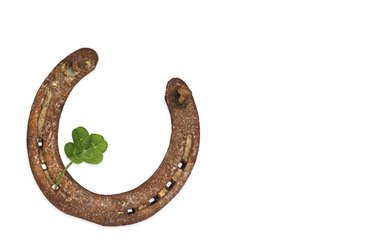 Old horseshoes are too unique and interesting to toss out. Give those metal shoes renewed purpose as horseshoe picture frames. The process is quick and requires only a few supplies.
Step 1
Glue a thin piece of cardboard to the back of your photograph. Spread a thin layer of white glue on the cardboard and press the photograph firmly in place. Allow the glue to dry.
Step 2
Place the horseshoe over the part of the picture you want framed. Make sure the top of the photograph is just below the top two nail holes in the horseshoe. Trace around the outside of the horseshoe on the photograph. Trim the photograph down so that it is just slightly smaller than the outside edge of the horseshoe.
Step 3
Hot glue the picture to the horseshoe. Place a thin bead of melted glue all the way around the back of the horseshoe. Quickly press the photograph in place against the back of the horseshoe before the glue hardens.
Step 4
Pull the ribbon through the two nail holes at the top of the horseshoe. Tie the ribbon to secure. Hang the picture frame on the wall for a rustic addition to your décor.
Tip
Dress up the horseshoe by painting it with any color of acrylic paint. Once the paint is dry, add a layer of clear acrylic spray to work as a protective top coat.