Things You'll Need
8 large potatoes

1/2 cup butter

2 can cream of chicken soup

1 1/2 cups grated cheddar cheese

1 pint sour cream

Bacon bits or smoked sausage, optional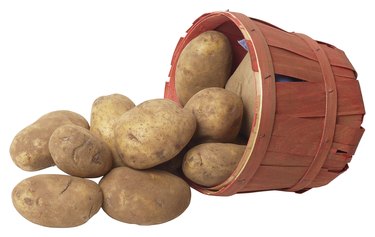 Creamy, cheesy potatoes are melt-in-your-mouth yummy. They are a great addition to any meal and can be even served as meal by themselves with the addition of bacon bits or smoked sausage.
Step 1
Bring a pot of water to a boil, and add the potatoes, leaving the skins on. Cook until soft. Once cooked, take the potatoes out of the water and let them cool. Peel off the skins once cooled, and shred the potatoes into hashbrowns.
Step 2
In a sauce pan, combine the butter, cream of chicken soup, cheddar cheese and sour cream. Warm over medium heat until the cheese is melted, stirring often. Once melted, turn the heat off. Mix in cooked bacon bits or smoked sausage pieces if desired.
Step 3
Place the shredded potatoes in a 9-by-13-inch greased baking dish, and pour the warmed mixture on the top of them. Add a small amount of cheese to the top, and bake at 350 degrees Fahrenheit for 30 minutes uncovered.
Tip
Cream of mushroom soup can be substituted for cream of chicken.