Why purchase beef hamburger patties when you can enjoy making them in your own kitchen? These homemade burger patties are succulent, juicy and delicious. Better yet, you can prepare them in less than half an hour. This recipe is almost too easy and will yield beef burger patties that are guaranteed to impress every time.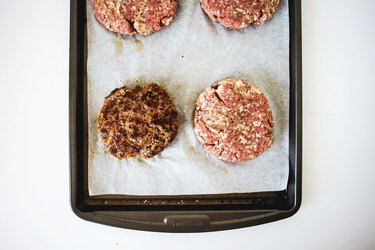 Things You'll Need
1 cup breadcrumbs

3 tablespoons whole milk

17.5 ounces / 500 grams ground beef

1 tablespoon Dijon mustard

1 teaspoon minced garlic paste

1 tablespoon chopped rosemary, or your choice of herb

Sea salt and cracked black pepper, to taste

Olive oil, for frying
Step 1: Moisten the Breadcrumbs
Put the breadcrumbs in a small bowl, and drizzle in the milk. Let stand for 5 minutes until the crumbs have absorbed the liquid.
Step 2: Combine the Ingredients
Add the moistened breadcrumbs to a large bowl with the beef, Dijon mustard, garlic and rosemary.
Step 3: Mix Well
Mix all the ingredients well to combine, and then season with sea salt and pepper.
Step 4: Divide and Shape
Divide the mixture into 4 portions, and shape into patties using your hands. Alternatively, you can use a burger press or mold.
Tip
To make hamburger patties that are perfectly shaped when cooked, make a small depression in the center of the burger so as the center puffs, the burger remains level.
Step 5: Fry
Place a nonstick frying pan over medium to high heat, and cook the patties for 4 to 6 minutes on each side or until just cooked through.
Tip
You can make beef hamburger patties in advance and freeze them for up to 3 months.