I really believe that the title alone explains how creamy this sauce is.Perfection is the keyword here!Every bite guarantees this perfection!Not only is this sauce creamy but so so yummy.For all you pasta lovers out there,there is no need to look any further.I have two great recipes for fettucini sauce that are so creamy.They are both delicious and creamy and perfect for and noodles.Recipe B is my all time favorite.I personally love to add chicken pieces and mushrroms.However both recipes create the creamiest sauces that I have ever had the pleasure of tasting.I am very confident that you will love this sauce.This sauce is definately for anyone who enjoys a great plate of pasta!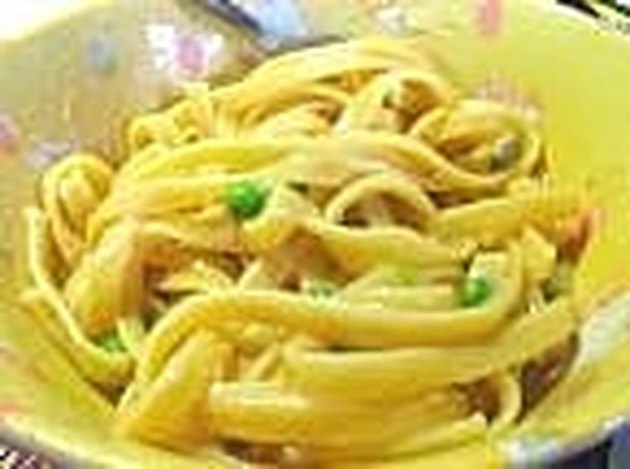 Things You'll Need
Recipe A

1/2 cup butter

3/4 cup whipping cream

1/2 cup parmesan cheese

1/2 tsp. salt

1/2 tsp. pepper

1 tsp. parsley

Recipe B

1 lb. margarine

3 lbs. cream cheese,cut into pieces

5-6 cups milk

2 cups fresh parmesan cheese

1/4 tsp. nutmeg
Step 1
Recipe A= Mix well and cook until warm(not boiling).
Step 2
Pour over fettucini noodles.
Step 3
Recipe B= Melt margarine.Add cream cheese and milk.Melt throughly.
Step 4
Add the parmesan cheese,nutmeg,and pepper.If sauce is too thick,add milk until desired consistency.May add mushrooms,broccoli,or bacon.May also mix in stir-fry vegetables.
Tip
May add mushrooms,broccoli,or bacon. May mix in stir-fry vegetables. If sauce is too thick,add milk to desired consistency.