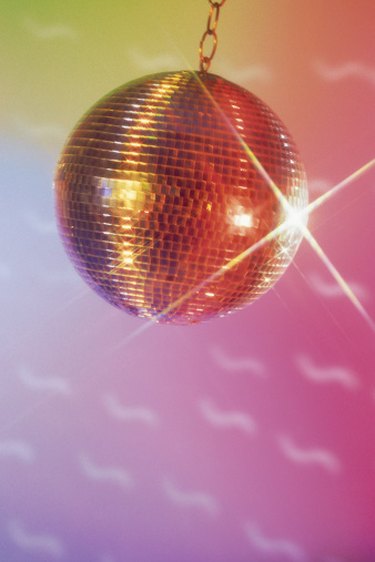 The 1970s in America featured the end of the Vietnam War, the Watergate scandal and long lines at the gas pumps caused by gas shortages. Popular movies of the decade included "Jaws," "Star Wars," "The Godfather," "Rocky" and the iconic "Saturday Night Fever," which appeared in 1977 and made the movie's disco soundtrack and John Travolta's white suit wildly popular. Disco music and the fashions associated with it are a good basis for your 1970s theme party.
Step 1
Find an iconic image of a celebrity from the 1970s, such as John Travolta's famous pose in "Saturday Night Fever" or the famous poster of Farrah Fawcett in a swimsuit, and save the image to your computer. Draw a "speech bubble" coming from the person's mouth, and insert the details of your party to create your invitations.
Step 2
On the party invitation, specify that everyone must dress in 1970s-era attire. If some of your friends don't know what to wear, suggest that they watch a few episodes of some of the television shows popular during the decade, such as "Charlie's Angels," "The Brady Bunch," "All in the Family" or "The Love Boat" to get an idea of what 70s styles were like. You could also ask them to dress as their favorite celebrity or character from the 70s, and give a prize to the most accurate depiction of a character.
Step 3
Decorate the room by hanging a disco ball -- you can buy these at most party supply stores. Print out photos of 70s celebrities or scenes from the news, television shows or movies of the time and hang them all over the walls. Hang curtains of strings of beads in open doorways; these are sold in most party supply stores.
Step 4
Load your iPod or MP3 player with music from the 70s and hook it up to your home sound system. Alternately, you can just hook your computer up to your home speakers and log on to a 70s channel on iTunes or tune in one of the 70s music channels on your television.
Step 5
Set up a karaoke machine and let your guests sing 70s songs.
Step 6
Get creative and name the dishes you serve at your party, using cards to indicate the names of your foods. Use the names of popular 70s television shows, songs or movies with a twist to name your dishes. Some examples might be "CHiPS and dip," "Watergate salad" or "Charlie's Angels food cake." Or you could evoke a popular 1970's symbol and decorate food to resemble the yellow smiley face. Bring out the fondue pot for a real 70's vibe.