Things You'll Need
1 can salmon

1/2 onion, minced

1 egg, lightly beaten

½ cup flour, plus extra for dredging

2 tbsp. fresh parsley, chopped

Salt and pepper to taste

2 to 4 tbsp. vegetable oil

Spatula

Bowl

Wax paper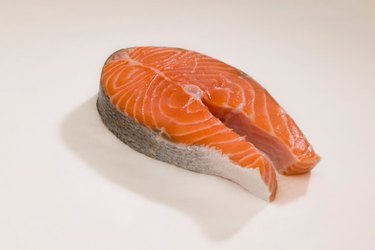 You can call them salmon patties; you can call them salmon croquettes; or you could just call them good! In the South, salmon croquettes are an excellent breakfast food typically served with grits and biscuits. A more traditional serving features it as a dinner entree served with vegetables and mashed potatoes. Regardless of how you plan to serve it, cooked right, salmon croquettes can be a nutritious, tasty treat.
Step 1
Check salmon for bones. Canned salmon can contain cartilage or bone, so you need to remove it from the can and flake it, feeling for any bones that it may contain.
Step 2
Add the salmon, onions, egg, 1/2 cup of flour, parsley and salt and pepper into a mixing bowl. Use a spatula, and mix gently, but thoroughly.
Step 3
Spread flour onto wax paper, and drop 2 tbsp. of salmon mixture onto the wax paper. Coat with flour while shaping salmon croquette mixture into a circular shape.
Step 4
In a skillet, heat 2 tbsp. of vegetable oil to medium-high.
Step 5
Once oil is hot, add the salmon croquettes to the skillet, and cook until golden brown on one side. Do not crowd the skillet; this will not allow the croquettes to get crispy. If necessary, cook the croquettes in batches, adding oil after each batch.
Step 6
Gently, flip the salmon croquettes over, and brown them on other side. If you have other croquettes to make, place finished croquettes in an oven-proof dish, and keep warm in an oven set at 250 degrees Fahrenheit.