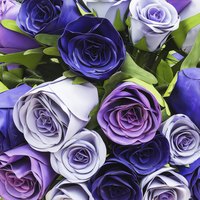 While silk flowers last a lot longer than real floral arraignments, they can become faded and develop a drab appearance over time. Before you toss them in the trash, however, consider upcycling them with some paint. As you paint silk flowers, you can change their look to match the season, occasion or color of a room.
Things You'll Need
Latex gloves
Floral spray paint or spray paint safe for use on silk flowers
Misting
Hold the can of spray paint 15 to 18 inches away from the silk flowers. Hold the stem of the silk flower with your other hand.
Mist the blossoms of the silk flowers lightly with the spray paint while slowly turning the silk flowers back and forth in your hand.
Stop the misting after a few seconds to examine the silk flowers. Determine if you achieved the desired color. If not, continue misting until the blossoms are colored to your liking. Let the paint dry on the flowers for a several seconds between times of misting.
Let the freshly painted flower dry for in a vase for an hour or two.
Toning
Choose a paint color that is a bit darker then the color of the silk flowers.
Hold the can of spray paint about 15 inches away from the flowers.
Spray the edges of the blossoms only so that you are giving the flowers subtle highlights.
Let the silk flowers dry upright for an hour or two.
Tipping
Cup the blossoms with your hand. Pull the flower down into the cup of your hand so that just the tips of the blossoms are showing.
Mist all parts of the blossoms that are exposed in the top of your hand with the spray paint. Open the cup of your hand and inspect your work. If needed, re-cup the blossoms in your hand in the same manner as before and mist the tips again.
Place the silk flowers in a vase and let dry for several hours.