Whether you live in a studio apartment or a mansion, having a tranquil outdoor space to escape to boosts your overall well-being. There's no better way to enjoy the outdoors and make your home the designated party spot than to transform your patio into a beautiful outdoor living or dining room. With a few easy and inventive DIY projects, like vertical potted plants and tiki torches, you will have a gorgeous retreat that's perfect for entertaining — or for simply taking in some sunshine alone. Make the most of your yard by adding trendy touches that reflect your personal style, and you may find yourself spending more time outside than in!
Provide Seclusion With a Privacy Screen
When you're looking for a little solitude to sunbathe without worrying about prying eyes, or you simply want to better define your patio, an outdoor privacy screen is ideal. There's no cutting necessary to build this cedar screen, and the pressure-treated lattice makes an excellent trellis for growing vines or hanging potted plants.
Add Clean Lines and Ample Storage With a Cool Buffet
Outdoor dining is made easy with this stylish buffet. The honeycomb-tiled top doubles as a tray for flawlessly serving cocktails to your guests, and cabinet shelves make for plenty of storage. Save yourself trips to and from the kitchen by having everything you need on hand.
Blend in Some Bench Seating
Instead of condemning a battered old coffee table to the dump, convert it into bench seating. Re-purposing that item into this modern woven bench is not only a fun project, but it makes a fantastic party accessory when you're through. Weave together vibrant nylon ropes to coordinate with your color palette, and no one will ever suspect its unsightly "before" look.
Combine a Planter With a Side Table
If you are looking to add some interest to your patio, but a regular side table seems a little dull for your taste, consider making this double-duty geometric planter. Why choose between charm and utility when you can build this table and have both? Plant your favorite succulents in their designated squares, and place a glass of wine on the flat top surface. Perfection!
Add Dimension With an Elevated Planter Box
Create a visually appealing outdoor area by planting your favorite flowers or vegetables in this standing planter box. Spend an afternoon building the cedar box, attach it to some easy-to-come-by Ikea trestle legs, and you're ready to go. By raising your garden off the ground, you have the freedom to design a dynamic space that doesn't require major leg work to maintain.
Make a Luscious Living Succulent Wreath
A stunning succulent wreath adds just the right amount of elegance for very little effort. Succulents come in so many textures, colors and sizes that your wreath will be one-of-a-kind from start to finish. Whether you hang it or use it as a centerpiece for your patio table, this gorgeous living wreath is beautiful in any setting.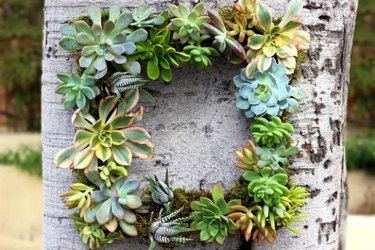 Light It Up With Tiki Torches
Take your patio from lackluster to luminous with tiki torches. You may already have one (or two) of the essential elements for these wine bottle tiki torches on hand, and with a little time, citronella oil and some wicks, your party doesn't have to stop when the daylight fades.
Create a Multi-Faceted Wooden Side Table
When the party's started and the drinks are flowing, guests won't have to gamble on finding a place to put their cups if you've got a side table or two. These geometric wooden side tables — which are made from fallen wood or tree stumps — are a funky way to make some necessary flat surfaces. There's no building required, only a little measurement and lots of cutting. The more asymmetrical, the better!
Assemble a Vertical Planter
When you haven't got a lot of room to work with, but you want more bang for your buck as far as a garden goes, planting vertically is the key. By connecting clay pots with silvery metal rods, this vertical planter gives the illusion that your flowers are floating up from the patio floor, allowing for a whole lot of blooms without sacrificing space.
Construct a Fire Pit Topper That Blows Canvas Away
A fire pit is the centerpiece of a great patio, and with this river rock garden fire pit cover, your fire pit can double as a table. The beautiful river rock and succulent garden inlay in the center make this plywood topper beautiful enough to draw a crowd on its own. And at nightfall, the faux concrete finish will leave your friends and family in awe when you lift it off to reveal the fire pit underneath.