There are a variety of ways to prepare sugar cookie icing that range from basic to more advanced. Many recipes call for egg whites or meringue powder (this is often referred to as royal icing). These ingredients create a stiff icing that can be useful for intricate piping, but are not necessary for basic decorating. If you're not frequently decorating cookies and want to keep things easy, you most likely have everything you need in your pantry, or can find the ingredients at a local grocery store. The best recipes are often the easiest, and this is a perfect example.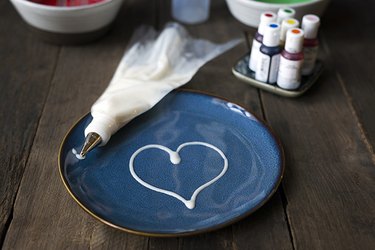 Things You'll Need
3 cups confectioners' sugar


4 to 5 tablespoons water or milk


1 1/2 teaspoons pure vanilla extract


2 1/2 teaspoons corn syrup


Fresh squeezed lemon juice, strained (optional)


Liquid gel food coloring (optional)


Whisk


Mixing bowl


Piping bag, small tips and coupler (optional)

Squeeze bottle (optional)

Tip
One optional ingredient I recommend is gel food coloring, which you can find at local craft supply stores or online. A few drops will give your icing a vibrant color without changing the consistency. However, coloring can be omitted completely for a beautiful white icing.
Step 1: Gather Your Ingredients
When deciding whether to use water or milk, keep this in mind: Milk will add a touch of creaminess, but the icing cannot be left at room temperature for longer than 4 hours. This is fine if the cookies will be consumed immediately, but icing prepared with water can be left at room temperature indefinitely.
Tip
To add lemon flavor to the icing, use a mixture of water and lemon juice, replacing half of the water with lemon juice. Make sure to thoroughly strain out any pulp or seed residue.
Step 2: Combine the Ingredients
In a large mixing bowl, whisk together the confectioners' sugar, 4 tablespoons water or milk, vanilla, and corn syrup. Vigorously whisk together until the mixture is very smooth and there are no lumps.
Step 3: Adjust for Proper Consistency
The icing should be thick enough to hold its shape while drying, but not so thick that it cannot be piped onto cookies. It should be about the consistency of Elmer's Glue. If necessary, add an additional tablespoon of water or sugar to reach the desired consistency.
Step 4: Optional: Add Gel Food Coloring
To add gel food coloring, divide the icing into smaller bowls and whisk in approximately 1 to 3 drops per 1/2 cup of icing until the desired color is reached. Keep in mind that gel coloring is much stronger than regular food coloring so you don't need much for vibrant results!
Step 5: Decorate the Cookies
The easiest way to decorate cookies is with a squeeze bottle. For more control over the design, use disposable piping bags and small piping tips, which you can purchase (along with squeeze bottles) at a craft supply store or online. If you want to get fancy you can also purchase couplers, which allow you to easily switch between tips without changing the bags. Either way, it's good to practice icing on a plate or cutting board before decorating the cookies.
Once piped, the icing will take a few hours to completely set (but that doesn't mean you can't eat the cookies before then).