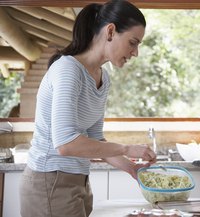 A perfectly clean looking plastic food storage container can still smell because you used it for onions, garlic or another odorous food item. While nasty smells can cling to plastic, they can be neutralized by one of several methods.
Things You'll Need
Coffee grounds
Baking soda
Thoroughly wash and rinse the plastic container as you usually would.
Stick a lemon wedge into the plastic container and close. Let it stand until the odor is gone. This can take several days.
Fill the container with a half-and-half mixture of baking soda and water if the lemon does not work. Put the lid on. Let is sit for several days.
Crumple newspaper and seal it into the container with some coffee grounds if the smell still remains. Let it stand for two to three days.
Place the open container in the direct sunlight for several hours.