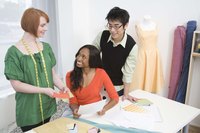 Ruffles on dresses and curtains, and fullness in sleeves and skirts -- they all begin with a gathering stitch. While the flounces may look complicated, making the stitch is a simple procedure.
Things You'll Need
Set the stitch length on your sewing machine to the longest setting.
Sew a straight line 1/4 inch from the fabric edge to be gathered, leaving a 2-inch tail at each end. Do not backstitch at either end.
Stitch a second row 1/2 inch from the fabric edge, again leaving the tail. Take care to avoid crossing the first line and to keep the lines as parallel as possible.
Tie the 1/4-inch line tails together at one end. Do the same for the tails from the 1/2-inch stitch line.
Pull the threads from the other end gently to draw up the fabric.
Distribute the gathers evenly along the stitch lines.