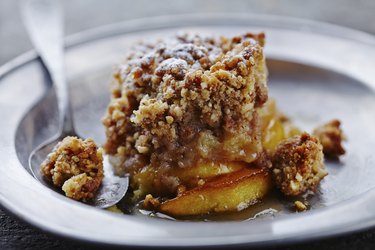 Start to Finish: 60 minutes Servings: 4 to 6 Difficulty Level: Beginner
With lightly spiced apples -- cooked down until they melt in your mouth -- and crunchy oatmeal topping that's buttery and sweet, apple crisp tastes like autumn, no matter when you make it. You can use any apple variety for this recipe, but Golden Delicious and Granny Smith are two of your best bets.
Ingredients
Filling 5 large or 6 medium apples 1 tablespoon cornstarch 2 tablespoons white sugar 1/2 teaspoon cinnamon Juice and zest of 1/2 lemon 1 teaspoon unsalted butter, softened
Topping 1/2 cup packed brown sugar 1/2 cup white flour 1/2 cup old-fashioned oats 1 teaspoon cinnamon 1/4 teaspoon nutmeg 1/4 teaspoon salt * 5 tablespoons unsalted butter, cold
Prepare the Filling
Heat the oven to 375 degrees Fahrenheit.
Wash, peel and core the apples. Cut the apples into slices that are about 1/2-inch thick. Transfer the slices to a large bowl. Add the cornstarch, sugar, cinnamon, zest and lemon juice. Stir the apples until they're evenly coated with the sugar mixture.
Using clean fingers, spread the butter over the bottom and sides of an 8-inch-by-8-inch or 9-inch-by-9-inch glass baking dish. Pour in the apple slices.
Make the Topping, and Assemble
In a clean bowl, combine the first six topping ingredients. Add the cold butter. Use a pastry blender or a fork to press the butter into the dry ingredients until the mixture resembles coarse crumbs.
Alternatively, prepare the topping in your food processor. Pour in the dry ingredients and let the processor run for a few seconds to combine them. Add the butter and pulse the mixture until it's the correct texture.
Sprinkle the oat topping in an even layer over the apple slices. Bake the dish for 35 to 45 minutes, or until the crust is a deep golden color and the apples are soft when pierced with a knife.
Let the crisp cool for 10 to 15 minutes. Top it with vanilla ice cream or whipped cream.
Tips and Suggestions
Berries and nuts make ideal companions for apples and oats. Add a cup of **blueberries or mixed berries** to the apple filling, or add **1/2 cup of chopped and lightly toasted pecans** to the crumb topping.

Make individual dishes of apple crisp using **ramekins** instead of a larger baking dish.

Refrigerate apple crisp for up to **three days**. Always reheat it in the oven to get the topping crunchy again -- 10 minutes at 350 degrees should crisp it nicely. You may also freeze an unbaked apple crisp for up to **six months**. Tightly seal the dish with plastic wrap and a layer of heavy-duty aluminum foil.