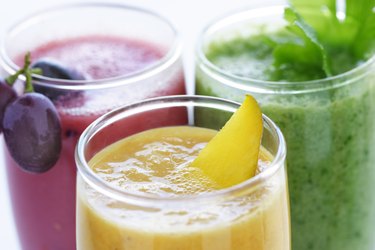 Start to Finish: 10 minutes
Servings: 4
Difficulty Level: Beginner
Although most smoothies use milk or yogurt to add protein and help ensure that fruit or vegetables blend in evenly, ice cream provides an alternative source of protein and gives smoothies richer tastes and creamy, thicker textures than other dairy products do -- even when you use a small amount of another liquid. Blenders make easy work of creating smoothies, but food processors will also do the job. This recipe, adapted from Iowa State University Extension and Outreach, makes 1-cup-size servings.
Ingredients
4 cups fresh or frozen fruit
4 cups ice cream
1/3 to 1/2 cup milk or fruit juice
Directions
Place all the ingredients in a blender and process on high speed until the smoothie becomes creamy and smooth.
Texture and Flavor Tips
Add more milk or fruit juice in 1/8-cup increments if the smoothie is too thick, blending until you achieve the consistency you want; add an extra banana to help thicken a smoothie that appears too thin.

Use the same amount of sorbet or frozen yogurt in place of ice cream to try out different flavors and textures.

Leave the ice cream out of the freezer for about 10 minutes to soften it for easier measuring if it is too hard to spoon into a measuring cup.

Experiment with different combinations of ice cream flavors and fruit to find the ones you like best. Classic combinations include strawberry ice cream with frozen strawberries and bananas or vanilla ice cream with frozen blueberries and strawberries. A tropical smoothie might contain coconut ice cream with pineapple and kiwi.

Add extra flavor to any smoothie with 1 teaspoon of grated, fresh ginger for each serving or 1 teaspoon per serving of vanilla or orange extract.
Serving Suggestions
In 1-cup servings, smoothies work well either as a between-mealtime snack or as a beverage for breakfast, lunch or a casual hamburger dinner. Provide a spoon to stir the smoothies in case any fruit settles on the bottom of the glass. And garnish smoothies with something that gives a clue to their flavors, such as a cut strawberry perched on the rim for a strawberry smoothie made with strawberry ice cream and an orange slice for an orange smoothie made with vanilla ice cream and oranges.