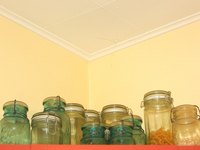 Christmas luminaries, used to light the way to holiday gatherings, are a popular tradition in the South. Traditionally constructed from a paper bag with a candle inside, luminaries pose the risk of fire if they're not watched carefully and are nearly impossible to use in areas with extreme weather conditions. These Mason jar luminaries reduce the risk of fire and are waterproof.
Things You'll Need
Mason jars
Votive candles
Sand
Tinsel
Hologram glass paint
Crushed glass
Choose pint or quart-size Mason jars that are the same size and style. For the best results, all jars should be the same type of jar.
Paint designs on the outside of the Mason jars with hologram glass paint to add sparkle. Trace the outline of a star and fill in completely or dot with the glass paint. Dot fine lines around the jars to make or complete a design.
Fill the bottom third of the jars with crushed or cut glass. Create a colorful display by using colored glass to reflect the light, or stick to clear crystals to reflect natural light.
Wrap decorative ribbon around the mouths of the Mason jars and tie them into bows. Add luminescent balls or sprigs of evergreens by hot-gluing them in place.
Insert the votive candles into glass candle holders. Secure the holders in the luminaries by pushing the base of the holders into the crushed glass.
Arrange luminaries along the walkway to light the pathway to your home. Light candles before holiday gatherings to light the way for guests.